Unexpected events. Accidents, emergencies, service interruptions. Prepared, Professional response. With Stryker Evacuation Chair's patented Stair-TREAD system, our Evacuation Chair by Stryker meets the demand for a stair chair that allows a single person to safely move a disabled person from a multi-story building. Using breakthrough design and intuitive technology, Stryker's Evacuation Chair offers an essential solution to evacuation requirements for medical conditions, service interruptions, emergencies and accidents.

Standard Features:
Innovative Stair-TREAD system
Easy to understand user instructions incorporated on seatback
Light-weight, rugged aluminum construction
Extendable head and foot end lift handles
Molded hand grips
Positive action locking mechanism
Compact storage size
Oversized rear wheels with sealed bearings
Color-coded controls
Extendable upper control handle
Dual wheel locks
Power washable
Grease-free maintenance
Passenger restraint set - includes lap, chest and ankle restraints
4" (10 cm) front caster wheels
Head support
Two-piece molded ABS seat
In-service training video

Please Note: This is a special order item. Shipping is $50.00 for the Chair. Please allow 3 to 5 weeks for delivery.

Availability
6254-000-000: Stryker Evacation Chair

Accessories (Sold Separately)
6254-050-000: Wall Bracket
6254-055-000: Storage Cover
6250-700-003: Oxygen Holder
6254-029-000: Foot Support
6254-070-000: Aggressive Track
6254-002-000: Storage Cabinet
Click Here to Order Accessories for the Stryker Evacation Chair.
Specifications:
Model 6253
Height: 45" (114 cm)
Width: 20.5" (52 cm)
Depth: 28" (71 cm)
Folded Depth 11" (28 cm)
Weight 34 lbs (15 kg)
Maximum Load: 500 lbs (227 kg)

Warranty
Additional Details:
Passenger restraint set includes lap, chest and ankle restraints.
Dimensions are measured from the outermost edges of the main frame. Specifications are rounded to the nearest whole number. Conversions are calculated before rounding.
Depth dimensions are measured with extendable handles retracted.
Maximum load capacity is total weight distributed in accordance to basic human anatomy. Operators must consider the weight of the passenger, equipment and accessories when determining the total weight on the product.
In-service video included with every order.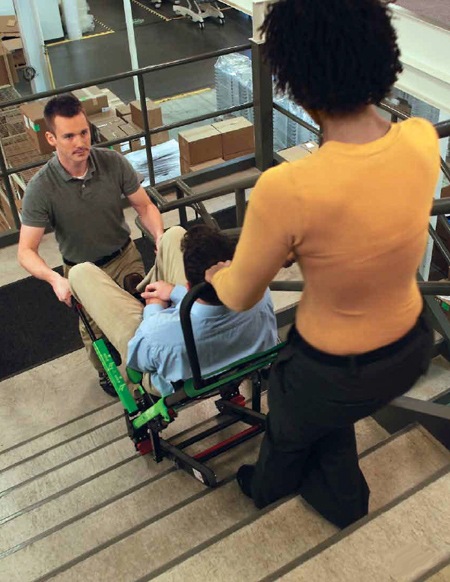 Stryker Evacuation Chair Video in Action - Downstairs
Stryker Evacuation Chair Video in Action - Upstairs