Just one ounce of Triple Action Formula Fiber-Stat® Laxation Liquid Fiber delivers 15 grams of soluble fiber, FOS, AND prune juice concentrate for gentle, effective relief from constipation while naturally improving intestinal and overall health.

Taken straight or added easily to foods and beverages, Fiber-Stat provides the highest amount of fiber per fluid ounce without the unpleasant taste, texture and grittiness often associated with fiber supplements.

Fiber-Stat is an easy way to meet the RDA requirements for fiber:

1. SOLUBLE FIBER:
- Provides gentle relief from constipation
- Delivers 60% of DV (15 grams)

2. FOS:
- Increases the growth of beneficial bacteria for colon health

3. PRUNE JUICE CONCENTRATE:
- Stimulates natural bowel regulation
- Rich in antioxidants
Enhanced Formulation
Now with glycerin for a smoother mouth feel
15 grams of soluble prebiotic fiber (60%DV) in 1 fl oz
Contains fructo-oligosaccharides and polydextrose to help support gut health1,2
Ready to drink or mix with any food or beverage
Thin viscosity
Kosher, lactose free, gluten free, and soy free
For oral and enteral use under medical supervision
Available in 30 fl oz bottles or 1 fl oz unit doses
Shelf-life 18 months

Available in 30 oz Bottles or 1 oz Packets. Flavor: Natural Prune.
| | | |
| --- | --- | --- |
| Model No | Size | Packaging |
| 70001 | 30 oz Bottle | Available by Bottle or Case of 6 |
| 70400-U | 1 oz Units | 96/case |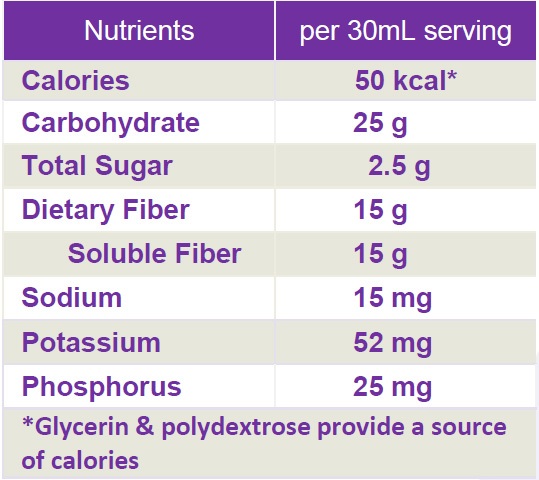 Click here for the Benefits and FAQs of Fiber-Stat
Warnings:
Do not use if intestinal obstruction, fecal impaction orknown allergy to any component is present.Do Not Refrigerate. Store and serve at room temperature. Discard three (3) months after opening. Record date opened on bottom of container.


Fiber-Stat® is a medical food. Consult your physician if abdominal pain, nausea, rectal bleeding or vomiting are present or if a suddenchange in bowel habits persists over a period of two weeks, as these may be symptoms of a serious medical condition.

Do not consume more than four tablespoons (60 ml) per day.

Do Not Use If Seal Is Broken.
Water, Polydextrose, Glycerin, Prune Juice Concentrate, Fructo-oligosaccharides (FOS). Contains 2 % or less: Sodium Benzoate (to help protect flavor), Potassium Sorbate (to help protect flavor), Phosphoric Acid.