An easy to use drug test that uses urinalysis to detect drugs and their metabolites, our CentralCheck CLIA Waived 11 Panel Cup w/ 3 Adulterants by Devon Medical does not require any handling to activate the test. The color bands are easy to interpret and results are quick and accurate. Each cup contains (3) three adulteration tests, an identification label and a temperature strip and is sealed in its own bag.
Central Check Product Features:
Simple Procedure
Easy to Interpret Color Bands
Built-in Test Control
Room Temperature Storage
18 Month Shelf Life
No Instruments Needed
Optional Adulteration Strips Built-in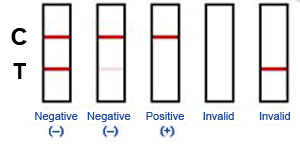 Drug Screen for the 11 drugs listed below:
AMP-Amphetamines
BAR-Barbiturates
BZO-Benzodiazepines
COC-Cocaine
mAMP-Methamphetamine
MTD-Methadone

OPI-Opiates
OXY-Oxycodone
PCP-Phencyclidine
TCA-Tricyclic Antidepressants
THC-Marijuana
Adulteration Tests:
pH
Creatinine
Specific Gravity
CentralCheck Model Number DTCC11CUP: Sold by Each.
Test Procedure
Test must be in room temperature (10°C - 30°C or 50°F - 86°F). Bring the test cup with the sample to room temperature prior to testing.
1. After the urine has been collected, place the test cup on a flat surface.
2. Insert the screw key to the key hole, then twist screw key from left to right.
3. Wait for 5 minutes, remove the label and read the result. Do not read results after 5 minutes.

Interpretation of Results
Positive (+): A rose-pink band is visible in each control region. No color band appears in the test region (if a faint line appears, the result is NOT positive).
Negative (-): A rose-pink band is visible in each control region and the appropriate test region.
Invalid: If a color band is not visible in the control region or a color band is ONLY visible in the test region, the test is invalid.