With its advanced double-sealing system, say goodbye to unpleasant and potentially embarrassing odors with our Janibell Akord Adult Incontinence Disposal System. Designed to Accomodate Adult-Sized Briefs or Pull-Ups, it can hold up to 35 Large Adult Diapers Per Load, and 1,050 Adult Briefs or Disposable Underwear Per Liner!
Simply step on the pedal to open the lid, and then drop the items through the unit's extra-large opening (sized for adult briefs versus a small opening you would find with a diaper geenie). This Adult Diaper Pail locks in odors to keep things smelling fresh. Perfect for home use or in an assisted living or nursing home. The Akord's elegant design for this Diaper Receptable looks attractive in any room.
The hands-free Akord waste receptable makes disposing of adult-sized briefs, pads and other incontinence items both simple and hygienic.
Features for the Janibell 330 Diaper Pail
Odor-Free - Double seal keeps your room smelling fresh.
Sanitary -

Hands-free disposal, with absolutely no exposure to the contents when emptying the pail.

Elegant Design -

Fits any decor.

High Capacity - Has an 11 gallon capacity.
Economical -

Continuous liner system eliminates waste, even if you choose to empty the unit before it is full.

Durable - Designed to hold up with years of heavy use.
Eco-Friendly -

Zero-Waste Liner system plus liners are made with 20% recycled material.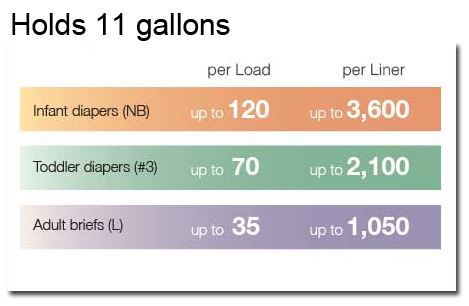 Order with CWI Medical, and get a liner pre-installed, so your diaper pail is ready to use out of the box!
Model M330DA: Holds 11 Gallons
Click here to order Janibell Liner Refills for 330 Series