A Solution Born from a Partnership - ADC partnered with Suntech to create the first truly modular diagnostic station that grows with your needs. Start with basic automated BP, then add thermometry and pulse oximetry AS you need it. Choose from wall mount, table mount or mobile configurations. Or convert the unit to the platform needed as your requirements change.

The complete Adview 9000 Vital Signs Module - ADVIEW diagnostic station includes:


An automated BP monitor that measures systolic and diastolic pressure, pulse rate and MAP in about 30 seconds using the oscillometric method
A temperature module using Kendall?s Filac Fasttemp technology that provides an oral or axillary temperature in about 10 seconds. Built in storage well for the probe and box of 20 disposable probe covers.
An SPO2 module that features industry leading Nellcor compatible technology for accurate readings in about 10 seconds
Unlike EVERY other monitor on the market, the ADView is completely modular. You can purchase the ADVIEW configured as you want from the factory OR upgrade the unit in the field at any time. No tools needed. With connect and go capability, adding optional temperature and pulse oximetry modules is effortless.

Start With Blood Pressure
Designed with the idea that no two patients are alike, the ADC ADView Diagnostic Station continues the innovation first developed for the e-sphyg 2 by offering a manual measurement mode. By combining the best of our nearly half century years of blood pressure measurement experience with the capability to apply traditional methods of blood pressure measurement, the ADC AdView? provides the most reliable and versatile means of capturing blood pressure data.

Easily capture automated blood pressure measurements at the touch of a button or choose to measure with your stethoscope by using the manual feature for your patients with arrhythmias or other complex needs. We recognize that all patients are different. Now, everything you need for accurate blood pressure is in one intuitive device. With 5 cuff sizes, ranging from child to thigh, the ADC ADView caters to all of your patients.*

* The ADC AdView is intended for patients ages 3 and up.

What's Included:
Adult & Large Adult All Purpose Cuffs
8' blood pressure hose
Mains/Power Supply
Mains/Power Cable
Resource CD
Quick Start Guide
Reference Card
Each system comes with a rechargeable battery
Model Options
| | |
| --- | --- |
| Model # | Adview 9000 System Model Configuration |
| 9000BP | Adview 9000 System, BP Device with Rechargeable Battery |
| 9000BPTO | Adview 9000 System, BP & Temperature, Rechargeable Battery |
| 9000BPS | Adview 9000 System, BP, SpO2, Rechargeable Battery |
| 9000BPSTO | Adview 9000 System, BP, Temperature, SpO2, and Rechargeable Battery |
Adview 9000 Optional Items / Accessories
| | |
| --- | --- |
| Model # | Adview 9000 Optional Items / Accessories / Temperature Modules |
| 9000D | Desktop Caddy to hold Adview®, power supply and accessories |
| 9000W | Wall Mount Kit with plate adapter and hardware with cuff storage basket |
| 9000M | Mobile Stand, 5 legs with oversize cuff / accessory storage basket |
| 9000TO | Oral Temperature module with Oral/Axillary probe, box of 20 probe covers |
| 9000TR | Rectal Temperature module with rectal probe, box of 20 probe covers |
To get Adview Model with Optional EMR (electronic medical records) with BLUETOOTH® connectivity for wireless integration to your computer system, click here.
Non-invasive Blood Pressure (NIBP)
BP Measurement: Oscillometric
Cuff Pressure Range: 0-300 mmHg
Initial Cuff Inflation: 160 mmHg
Systolic Range: 60-270 mmHg
Diastolic Range: 30-170mmHg
Blood Pressure Accuracy: BHS (A/A), ESH, AAMI SP10: 2002
BP Determinaton Time: 30-40 seconds
Overpressure Cutoff: 330mmHg
Pulse Rate Range: 30-200BPM
Pulse Rate Accuracy: +/- 2% or +/- 3bpm, whichever is greater

Temperature
Measurement Range: 86° F to 109.4°F (30°C to 40°C)
Calibration Accuracy: +/- 0.2° F (+/- 0.1° C)
Temp Determination time: 10-15 seconds
Probe/Probe Well: Oral/Axillary ? Blue - r Rectal ? Red

SpO2
Performance Measurement Range: 40 - 100%
Accuracy: 70 - 100% +/- 2 digits

Mechanical Dimensions (HxWxD)
BP Module: 6.0 x 5.5 x 3.8 in
Temp Module: 4.5 x 5.5 x 3.8 in
SpO2 Module: 2.5 x 5.5 x 2.5 in
Complete instrument: 5.5 x 11.5 x 3.8 in

Weight:
BP Module: 3.25 lbs (1.48 kg)
Temp Module: 0.60 lbs (.27 kg)
SpO2 Module: 0.40 lbs (.18 kg)
Complete instrument: 4.25 lbs (1.93 kg)

Electrical
AC Power Supply: 9v 1.7A Rechargeable sealed lead acid internal battery
Battery Recharge Time: 8-12 hrs - Simultaneously operates device & charges battery when AC power adapter is plugged in
Operating Time: A fully charged battery supports 200 typical blood pressure determinations at 7 minute intervals

Environmental
Operating Temperature: 50°F to 104°F (10°C to 40°C)
Operating Relative Humidity: 15% to 90% (non-condensing)
Storage Temperature: -4°F to 131°F (-20°C to 55°C)
Storage Relative Humidity: 15% to 90% (non-condensing)
EMC Standard: IEC/EN 60601-1-2

Warranty:
BP, Temp and SPO2 Modules: 2 years parts and labor
Cuffs: 2 years
Wall Mount, Table Caddy, & Mobile Stand: 2 years
Mounting Options
Choose from three platforms for the mount that best suits your needs. Or convert from one platform to another as your requirements chang

Wall Mount
Replaces Manual Aneroid or Mercurial BP Instruments:

Intuitive design coupled with reliable, validated performance makes the ADC AdView? BP module an appealing replacement for wall mounted mechanical sphygmomanometers

Table Stand
Replaces Mercury Sphygs

The desktop caddy configuration replaces traditional mercury units at an affordable price. Conveniently carry from room to room. You can add additional parameters such as temperature and SpO2 whenever needed.

Mobile Stand
Room to Room Portability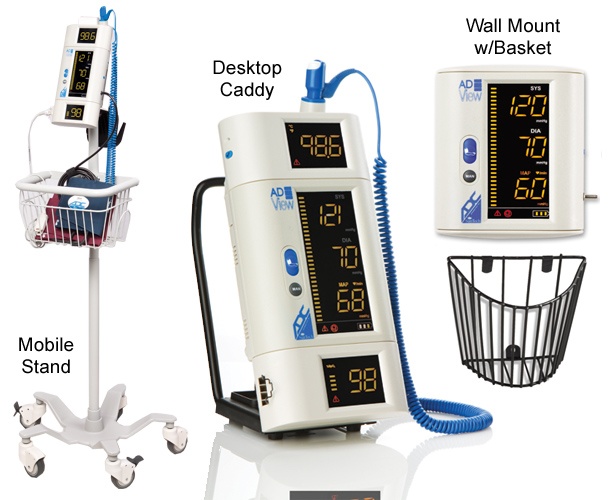 Achieve maximum versatility when you use the mobile stand configuration. With the rechargeable battery pack you can transport the device from room to room for optimum workflow. Our mobile stand comes with an oversized basket for accessories and a quick reference card.