Providing 8 fluid ouces of absorption capacity, Our Tranquility TrimShield Super Plus Pads provide peace of mind. Designed for use in regular underwear, these Super Plus Pads have a moisture proof back with an adhesive strip to hold them securely in place. The superabsorbent construction eliminates odor and locks in moisture, even under pressure. Convenient and easy to change and disposable, our Tranquility TrimShield Super Plus Pads are a customer favorite. Latex Free.
Available by Bag or Case.
| | | | |
| --- | --- | --- | --- |
| Model No. | Size | Capacity | Packaging |
| 2083 | 11.75" x 4.0" | 8 oz | 5 bags of 25 |
For Tranquility TrimShield Mini Pads, Click Here.
$10 Rebate Available for this item.* Use Promo Code TRAREBATE at check-out, and the Mail-In Rebate will be included in your order.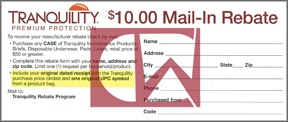 *Limit one (1) request per household/product. Rebate applies to any CASE of Tranquility Incontinence Products: Briefs, Disposable Underwear, Pads, Liners with a sale price of $50 or greater.