For the challenge of malnutrition, fluid restriction, inadequate oral intake, or unintentional weight loss, Resource 2.0 Complete Liquid Nutrition is the best choice for optimal sustenance.
This is a calorically dense, high nitrogen, complete liquid formula specifically designed for the management of elevated nutritional needs. It is a formula that also includes a reduced level of sodium which is often indicated for patients requiring fluid restriction.
Resource 2.0 Complete Liquid Nutrition has a mild vanilla flavor and is appropriate for supplemental feeding including medication pass programs as well as total enteral feeding.
Primary indications for Resource 2.0 Complete Liquid Nutrition use include:
Medication pass programs
Wound prevention and treatment programs
Fluid restricted/volume sensitive patients
Congestive Heart Failure
Liver Disease with Ascites
Pulmonary Edema
Respiratory Disease
Shortened feeding schedules
Elevated Calorie and Protein Needs
It is the safety, quality, and assurance of Resource 2.0 Complete Liquid Nutrition that offers a well-rounded nutritious delivery when it is needed most.
Availability
| | | |
| --- | --- | --- |
| Flavor | Model # | Packaging |
| Very Vanilla | 27600000 | 32 fl oz cartons with Twist Cap, Case (12 ct) |
| Very Vanilla | 18010000 | 8 fl oz cartons, Case (27 ct) |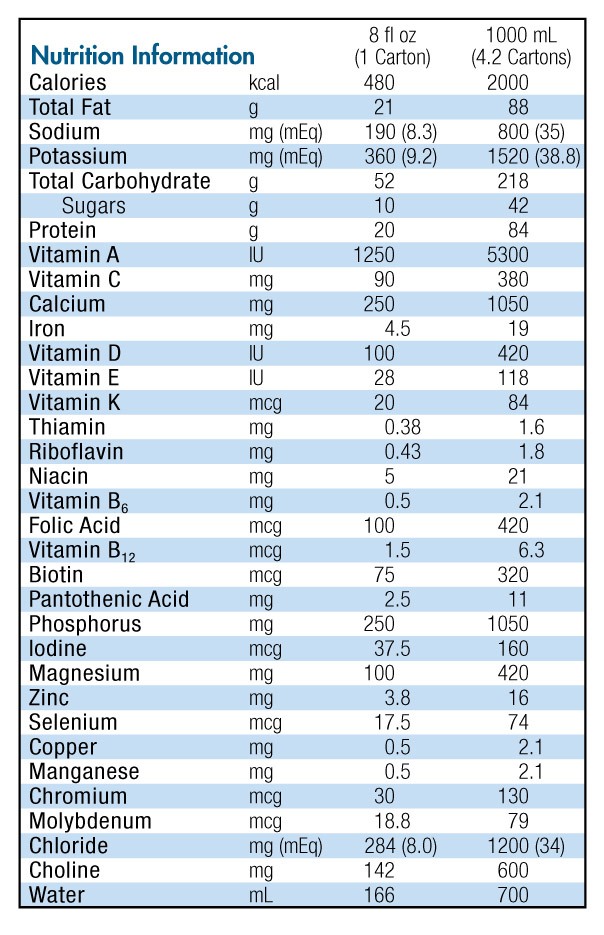 Nutritional Support for

Malnutrition

Fluid restriction

Inadequate oral intake

Unintentional weight loss

kcal/mL: 2.0
Caloric Distribution (% of kcal)
Protein: 17%
Carbohydrate: 43%
Fat: 40%
Protein Source: calcium and sodium caseinate (milk)
NPC:N Ratio: 116:1
n6:n3 Ratio: 2.3:1
Osmolality (mOsm/kg water): 790
Water: 70%
Meets 100% RDI for 24 key micronutrients: 948 mL
HCPCS Code: B4152

Appropriate for: lactose intolerance*, gluten-free, low-residue, kosher
Not for individuals with galactosemia. NOT FOR PARENTERAL USE
Appropriate for medication pass supplement programs**

Calorically and protein-dense oral drink containing 2.0 kcal/mL and 20 g of protein
**As with all medications taken with food, drug/nutrient interactions should be evaluated by the physician and/or pharmacist prior to use
INGREDIENTS for Resource 2.0 (VERY VANILLA): WATER, CORN SYRUP, CANOLA OIL, CALCIUM CASEINATE (MILK), SUGAR AND LESS THAN 2% OF SODIUM CASEINATE, POTASSIUM CITRATE, DISTILLED MONOGLYCERIDES, MAGNESIUM CHLORIDE, POTASSIUM PHOSPHATE, CELLULOSE GEL, SODIUM ASCORBATE, SODIUM CITRATE, CHOLINE CHLORIDE, CITRIC ACID, SOY LECITHIN, NATURAL AND ARTIFICIAL FLAVOR, ALPHA-TOCOPHERYL ACETATE, MAGNESIUM OXIDE, MALTODEXTRIN, CALCIUM PHOSPHATE, SALT, CELLULOSE GUM, FERROUS SULFATE, ZINC SULFATE, NIACINAMIDE, VITAMIN A PALMITATE, CALCIUM PANTOTHENATE, COPPER GLUCONATE, MANGANESE SULFATE, VITAMIN D3, PYRIDOXINE HYDROCHLORIDE, THIAMINE HYDROCHLORIDE, RIBOFLAVIN, FOLIC ACID, CHROMIUM CHLORIDE, BIOTIN, POTASSIUM IODIDE, SODIUM MOLYBDATE, SODIUM SELENITE, VITAMIN K1, VITAMIN B12
CONTAINS: MILK AND SOY INGREDIENTS