warm up with deals!
$5 off
your purchase of $65 or more*
use code
WARM
view all offers
Need Help? Call Toll-Free 1-877-929-4633
Nursing Comfort Instant Relief System
Item # NURSCOMF | SKU # LC22800APK
Breastfeeding provides a wonderful bonding experience and all the nutrients and immunities that nature perfectly-designed for your baby. However, in the early stages, you may have some discomfort in your breasts and nipples. There is finally a way to relieve the discomfort quickly and naturally. Our doctor-developed ultra-soft treatment sleeves and cooling gel pads provide instant relief from discomfort, swelling, irritation and soreness associated with breastfeeding.

Our Nursing Comfort Instant Relief System by The First Years come with Cooling Gel Pads that instantly soothe burning and irritation while our ultra-soft treatment sleeves are coated with natural milk proteins and a glycerin complex, specifically formulated to reduce the skin's acidity and inflammation and promote healing.
Provide instant relief from engorgement discomfort, nipple irritation and soreness
Essential milk proteins promote advanced healing by reducing the skin acidity and inflammation.
Safe and natural for mom and baby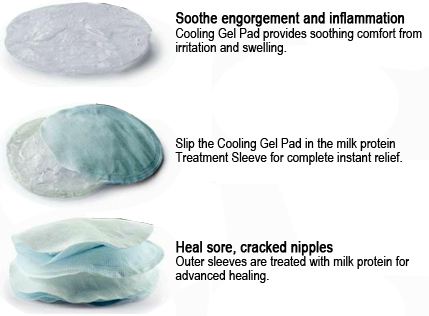 Model LC22800APK Contains one reusable gel pads, with (4) four disposable treatment sleeves and a Trial Size 0.07oz (2 gm) of Lanolin-Free Nipple Butter.

90 Day Limited Warranty