Getting proper nutrients while challenged by various conditions can sometimes be difficult. With Resource Diabetishield obtaining a good amount of calories along with protein, minerals, and vitamins is easy and refreshing.
Resource Diabetishield is a clear liquid supplement with the added combination of:
Arginine*
Chromium
Vitamins C
Vitamin E
This combination of ingredients helps improve insulin sensitivity and aids in blood sugar control, two essential concerns for diabetics as well as weight maintenance protocols. Other important Diabetishield nutrients include *phosphorous, iodine, and vitamins A,B, & D3.
Diabetishield tastes delicious as a pleasant mixed berry flavor without chalky residue and comes in an easy to open carton.
*Arginine is linked to enhancing circulation which may be beneficial for cardiovascular function.
*May not be suitable for individuals with impaired renal function.
Model No. 34930000: 8 fl oz cartons, Case (27 ct)
Use under medical supervision.
*L-arginine and is a good source of vitamin C and protein
Nutrition Profile for Diabetishield Drink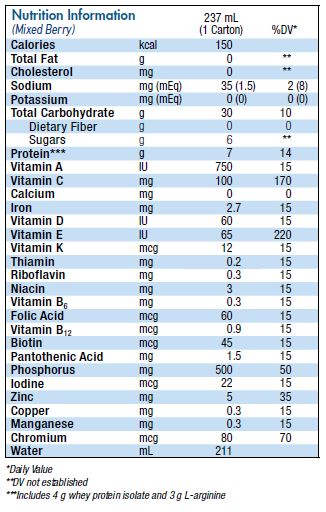 kcal/mL: 0.63
Caloric Distribution (% of kcal)
Protein: 19%
Carbohydrate: 81%
Fat: 0%
Protein Source: whey protein isolate, L-arginine
Supplemental L-Arginine: 3 g/237 mL
NPC:N Ratio: 76:1
Osmolality: 380
Water: 89%
HCPCS Code: B4154
*This is a high-nitrogen and high-phosphorous product that may not be appropriate for individuals with impaired renal function
Ingredients for Resource Diabetishield (Mixed Berry): Water, Corn Syrup And Less Than 2% Of Whey Protein Isolate (Milk), L-Arginine, Phosphoric Acid, Citric Acid, Malic Acid, Ascorbic Acid, Maltodextrin, Vegetable Juice (Color), Propylene, Glycol, L-Cysteine, Dl-Alpha Tocopheryl Acetate, Sucralose, Invert Sugar, Zinc Sulfate, Caramel Color, Natural And Artificial Flavor, Ferrous Sulfate, Niacinamide, Calcium Pantothenate, Copper Gluconate, Manganese Sulfate, Vitamin A Palmitate, Pyridoxine Hydrochloride, Thiamine Hydrochloride, Riboflavin, Chromium Chloride, Folic Acid, Biotin, Potassium Iodide, Vitamin K1, Vitamin D3, Vitamin B12
Contains: Milk Ingredient