A unique combination of Glutamine & Arginine, ArgiMent by Medtrition is an orange flavored instant drink mix which delivers 10 grams of glutamine and 7.5 grams of arginine when mixed with 8 oz. of water.
ArgiMent added to a patient's oral intake or standard tube feeding provides additional nitrogen to promote nitrogen balance during metabolic stress plus specific amino acids to maintain gut integrity, restore lean body mass and enhance immunity. Glutamine and Arginine have long been classified as "conditionally essential amino acids". Under certain conditions such as metabolic stress caused by pressure ulcers or illness, dietary supplementation is required to meet the body's increased demands.

Model 11201. 27.6 gram Packets, 40/Case. Flavor: Orange.


Tags: ArgiMent, ArgiMent Packets, ArgiMent Orange, ArgiMent Dietary Supplement, Glutamine, Arginine, Wound Healing, Metabolic Stress, Post-Op, Surgery, Medical Nutrition, 1201
Kcal/ml: 0.58
(When mixed in 240 ml of water)
Caloric Distribution (% of kcal)
Protein: 81%
Carbohydrate: 19%
Fat: 0%
Protein Source:
Whey, L-arginine (14.25 N2 Eq)
L-glutamine (12.0 N2 Eq)
Osmolality: 440 mOsm/kg water
(When mixed in 240 ml of water)
HCPCS Code: B4155
Appropriate for these diets:
Lactose Free, Gluten Free, Low Residue, Carbohydrate Controlled, Low Fat
Phenylketonurics: contains Phenylalanine
Can be used orally or through feeding tube.
Shelf Life: 24 months
Each serving contains:
7.5 g L-arginine
10 g L-glutamine
The amount of nitrogen in one packet of ArgiMent is equivalent to 26 grams of intact protein.
Not for use by patients suffering from dehyration, compromised renal functions or liver disease.
Not for individuals with galactosemia.
Not a sole source of nutrition.
Medical Food
Use under medical supervision.
NOT FOR PARENTERAL USE
Since L-glutamine is unstable after being mixed with in a liquid, it is important to administer immediately after mixing to insure full potency.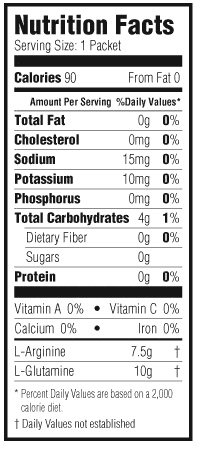 Arginine: promotes blood flow throughout the body, delivering nutrients and oxygen to support tissue healing.
Joins with other nutrients to form collagen protein required for tissue repair.
Glutamine: Acts as a fuel for rapidly proliferating cells, helping to maintain gut integrity, and thus promotes nutrient absorption.
Stimulates the synthesis of muscle tissue and inhibits the degradation of proteins, thus preserving lean muscle mass required for healing.
Lactose and Gluten Free.
Can be used orally or though feeding tube.
Not a sole source of nutrition.
Dosage

Oral: Mix one packet with 6-8 oz. water or juice BID (two servings per day).
Tube Feeding: Mix one packet with 60 mLs of water. Stir until completely dissolved. Infuse via syringe down feeding tube. Flush tube with 30mLs water before and after administration.
Do not mix with tube feeding.
Note: Products containing glutamine are to be consumed or administered immediately upon mixing to insure maximum potency.
One packet of ArgiMent contains the nitrogen equivalent of 26 grams of intact protein.
L-Glutamine, L-Arginine, Citric Acid, Orange Juice Powder, Natural Flavor, Aspartame, FD&C Yellow #6.
Store at room temperature.
Shelf Life: 24 months