Providing a safe, efficient way to evacuate non-ambulatory patients from any multistory building using the stairways, our Bariatric Evacuation Slyde folds flat and stores in stacks of up to fifteen units in a storage sleeve (Sold as 5 or 15 storage sleeve sizes). The sleeve can be wall-mounted for quick access in key locations.
Folds flat and stacks 15 deep for easy storage
Easy set-up and instruction pictograms on each unit
Four strong web handles for multipoint control by 5 to 7 operators
Size permits continued stairwell traffic flow during patient evacuation
Functions as post-evacuation surge capacity device
Lightweight for easier transports
Fastex buckle restraints are quick easy to use
Compatible with Stryker Stairwell Belay System for heavy patient evacuations
Wall-mounted storage options are space-saving and convenient
800 lb Weight Capacity
2 Year Warranty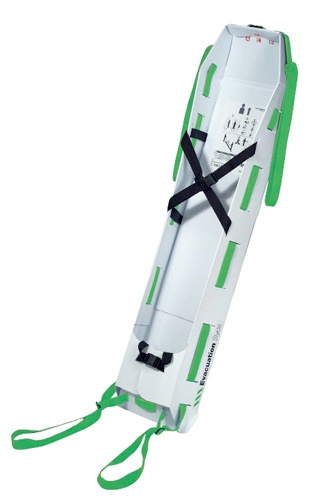 Due to the Size & Shape of the Item, Shipping is $25.00 for the BaraSlyde.
Model No. 6410-000-000
Specifications for Bariatric Evacuation Slyde
Model Number
6410-000-000
Material
Corrugated polypropylene
Height
85 in. (215.9 cm)
Folded Height
75 in. (190.5 cm)
Folded Thickness
2 in. (5 cm)
Width
24 in. (61 cm)
Weight
11 lb. (5 kg)
Max. Weight Capacity
800 lb. (363 kg)
Bariatric
Evacuation Slyde Sleeve
5 Count
15 Count
Model Number
6410-010-000
6410-012-000
Material
1,000 denier
Cordura nylon
1,000 denier
Cordura nylon
Height
77 in. (195.5 cm)
77 in. (195.5 cm)
Depth
8 in. (20.3 cm)
22 in. (55.9 cm)
Width
24 in. (61 cm)
24 in. (61 cm)


Stairwell Belay Device
Part Number: 6400-020-000
Strength Rating: 25 kN (kilonewtons) or 5,000 lb.
Rope: 3
Additional Information
Passenger restraint set includes waist andchest restraints.
Dimensions are measured from the outermost edges of the main frame.
Specifications are rounded to the nearest whole number. Conversions are calculated before rounding.
Operators must consider the weight of the passenger, equipment and accessories when determining the total weight on the product.
Maximum weight capacity is total weight distributed in accordance with basic human anatomy.
Stryker reserves the right to change specifications without notice.
Features and Benefits of Evacuation Slyde Sleeve
Stores up to five or fifteen units of Evacuation Slyde or Bariatric Evacuation Slyde identified on exterior
Lightweight and easily wall-mounted using Velcro for quick deployment
Highly visible to evacuation team
Easy access with zipper closure
Clearview Pouch displaying Evacuation Plan on the front surface
Front pocket for storage and quick access of Stairwell Belay
Identification pictogram
Bariatric Evacuation Slyde Demonstration