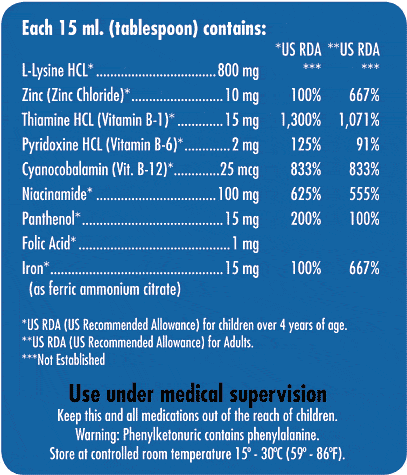 Nutrivit® 8oz. Liquid
NDC 54859-501-08
Dye, Sugar, Alcohol, and Saccharine FREE! New improved formula butterscotch flavor. Multivitamins Hematinic with Lysine.
EACH 15ml (Tablespoonful) CONTAINS: L-Lysine HCL...800mg., Zinc (Zinc Sulfate)...10mg., Thiamine HCL (Vlamin B-1)...15mg., Riboflavin (Vitamin B-2 as Phosphate)...10mg., Pyridoxine HCL (Vitamin B-6)...2mg., Cyanocobalamin (Vitamin B-12)...25Mcg., Niacinamide...100mg., Panthenol...5mg., Folio Acid...1mg., Iron...15mg.
(As Ferric Ammonium Citrate) Also Contains Glycerin, Methylparaben, Propylparaben, Propylene, Glycol, Citric acid, Butterscotch, flavor, Polysoibate 20, Natrosol, Aspartame and purified water.
DOSAGE:
INDICATIONS: As a multivitamin and mineral supplement and for Folic acid deficiencies. Folic acid helps In the prevention of concomitant Folic acid deficiency (as may be seen in tropical and non-tropical sprue) and in amenias of nutritional origin, pregnancy, and childhood