Designed for those with impaired digestion, Kate Farms Peptide 1.5 is a complete nutrition specialty formula that provides 500 calories in each 325 mL carton.
This plant-based peptide formula is made with organic ingredients and does not contain dairy, soy, corn, gluten, or nuts. Featuring hydrolyzed organic pea protein, functional fats, corn-free carbohydrates, and a phytonutrient blend with antioxidant properties.
Suitable for short or long-term tube feeding. Can also be enjoyed as a nutritional supplement and when transitioning on or off a tube.
Model No. 851823006379: 325 mL cartons, Case (12 ct)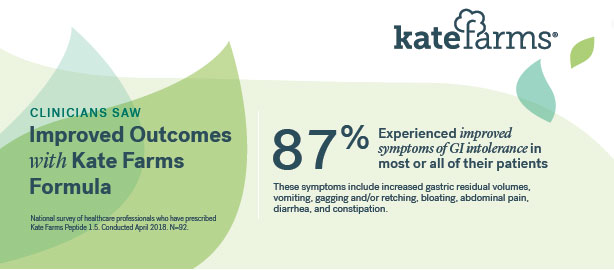 The Higher Standard of Enteral Nutrition
Kate Farms is a Superior Product for tube feeding and supplemental nutrition
MADE WITHOUT COMMON ALLERGENS
Does not contain dairy, soy, corn, nuts or gluten.
PLANT-BASED PROTEIN
Organic pea protein with a PDCAAS1 of 0.98, and offers a complete amino acid profile.
HIGHEST QUALITY INGREDIENTS
Certified organic by Quality Assurance International, Non-GMO Project Verified.
FUNCTIONAL INGREDIENTS
Prebiotic organic agave inulin, higher amounts of naturally-occurring arginine2, and phytonutrients.
---
INSTRUCTIONS FOR USE: Remove cap to break seal, replace cap and shake vigorously.
For oral consumption: Tastes best chilled. Do not heat.
For tube feeding: Administer at room temperature. Follow healthcare provider instructions for clean handling techniques, flow rate, volume administration, and water flushes. May be used via pump, gravity or bolus as directed by healthcare provider.
STORAGE: Store unopened product at room temperature. Use by date printed on top of package. Once opened, replace cap, refrigerate and use within 24 hours. NOT for intravenous use.
CERTIFICATIONS: Certified organic by Quality Assurance International, Certified Gluten-Free by National Celiac Association, Non-GMO Project Verified, Certified kosher by Orthodox Union, Patent-pending formulation1. Meets or exceeds 100% of the DRI for protein and listed micronutrients at 1625 mL
Ingredients for Kate Farms Peptide 1.5 Nutritional Formula
Purified Water, Hydrolyzed Pea Protein, Organic Agave Syrup, Organic Brown Rice Syrup Solids, Organic High Linoleic Sunflower Oil, Organic Coconut Oil, Organic Flax Seed Oil, Organic Agave Inulin, Vitamin and Mineral Blend*, Organic Sunflower Lecithin, Spectra™ 100mg Superfoods Blend†, Organic Rosemary Extract, Sea Salt, Organic Quinoa Flour.
* Vitamin and Mineral Blend: Dicalcium Phosphate, Potassium Chloride, Magnesium Chloride, Calcium Carbonate, Choline Bitartrate, Sodium Ascorbate, Trisodium Citrate, Potassium Citrate, L-Cysteine, Taurine, L-Carnitine, L-Tryptophan, DL-Alpha-Tocopheryl Acetate, Niacinamide, Zinc Oxide, Ferric Orthophosphate, Calcium Pantothenate, Pyridoxine Hydrochloride, Copper Sulfate, Manganese Sulfate, Riboflavin, Thiamine Hydrochloride, Vitamin A Palmitate, Beta Carotene, Folic Acid, Biotin, Chromium Picolinate, Phytonadione, Sodium Molybdate, Sodium Selenite, Potassium Iodide, Vitamin D2, Vitamin B12.
† Spectra™ 100mg Superfoods Blend: 2 Concentrates of: Broccoli Sprouts, Camu Camu, Tomato, Broccoli, Acai, Turmeric, Garlic, Basil, Oregano, Cinnamon, Elderberry, Carrot, Mangosteen, Sweet Cherry, Blackberry, Chokeberry, Raspberry, Spinach, Kale, Brussels Sprouts; Extracts of: Green Arabica Coffee Bean, Green Tea, Onion, Apple, Acerola, Japanese Pagoda Tree, Blackcurrant, Blueberry, Bilberry.