Complete Elemental Liquid Diet for Children provides a specifically designed protein, lipid, vitamin and mineral profile for children ages 1 to 10 with impaired gastrointestinal function, Peptamen Junior with Prebio is designed to be well tolerated and features the prebiotic fiber blend PREBIO, which helps support a healthy gut microflora. It also features Proven Blend consisting of whey-based peptides, a unique antioxidant system and an optimal lipid blend.

Features for Peptamen Junior with Prebio
4 g/L PREBIO¹™ soluble fiber blend helps promote the growth of beneficial bacteria to support digestive health of children 1–13 years with impaired GI function
Enzymatically hydrolyzed, 100% whey protein to facilitate gastric emptying
Meets the 2011 IOM recommendations for calcium and vitamin D
60% of fat from MCT helps facilitate fat absorption, which supports formula tolerance
Nutritionally complete formula for tube feeding or oral supplementation
Contains CalciLock

®

blend of essential nutrients to help support healthy bone development. CalciLock

®

is a combination of essential nutrients to help build and maintain strong bones. This nutrient blend includes calcium, phosphorus, magnesium, zinc, and vitamins D, C & K and is designed to help support healthy bone development.
Model No. 9871616261: Vanilla, 250 ml, Case (24 ct), (202.8 oz/Case)
Features At-A-Glance:

kcal/mL: 1.0
Caloric Distribution (% of kcal)
Protein: 12%
Carbohydrate: 55%
Fat: 33%
Protein Source: enzymatically hydrolyzed whey protein
NPC:N Ratio: 183:1
MCT:LCT Ratio: 60:40
n6:n3 Ratio: 4.8.1
Osmolality (mOsm/kg water): 365
Renal Solute Load (mOsm/L): 255
Free Water: 84%
Meets 100% of the NAS-NRC RDA for children ages 7-10 for 18 key micronutrients: 1000 mL

HCPCS Code B4160
Fiber Content (Source) 3.6 g/L (oligofructose, inulin)
Appropriate for these diets:
lactose-free*, gluten-free, low-residue

* Not for individuals with galactosemia

PEPTAMEN JUNIOR® WITH PREBIO contains ingredients that may not be appropriate for individuals with food allergies (e.g., partially hydrolyzed whey protein from cow?s milk protein).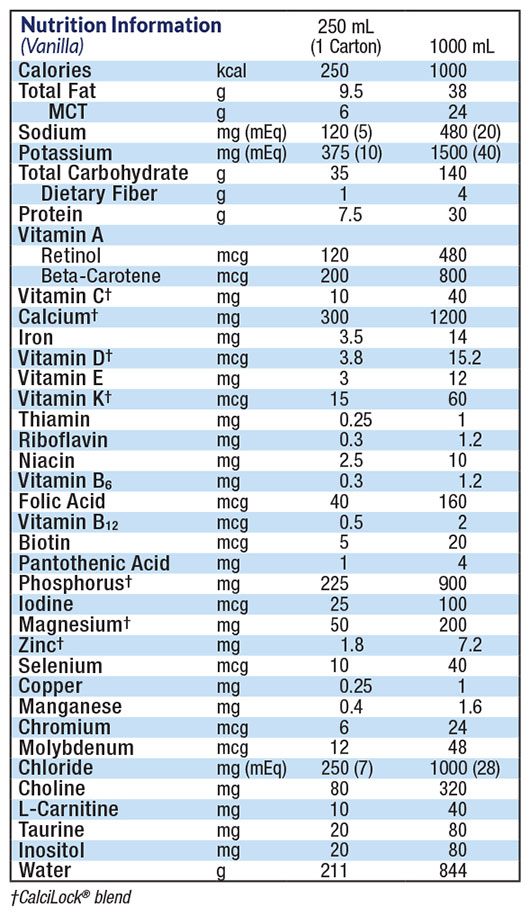 Ingredients for Peptamen Junior with Prebio
INGREDIENTS (VANILLA): Water, Maltodextrin, Enzymatically Hydrolyzed Whey Protein (from Milk), Medium Chain Triglycerides, and less than 2% of Sugar, Corn Starch, Soybean Oil, Canola Oil, Fructooligosaccharides (Soluble Fiber), Calcium Phosphate, Soy Lecithin, Guar Gum, Inulin (Soluble Fiber from Chicory), Magnesium Chloride, Monk Fruit Juice Concentrate (Sweetener), Potassium Chloride, Sodium Phosphate, Potassium Citrate, Salt, Potassium Phosphate, Choline Chloride, Natural Flavor, Calcium Citrate, Phosphoric Acid, Sodium Ascorbate, Taurine, Magnesium Oxide, L-Carnitine, Inositol, Ferrous Sulfate, Sucralose (Sweetener), Sodium Citrate, Citric Acid, Zinc Sulfate, DL-Alpha Tocopheryl Acetate, Niacinamide, Calcium Pantothenate, Manganese Sulfate, Copper Sulfate, Pyridoxine Hydrochloride, Riboflavin, Thiamine Mononitrate, Vitamin A Palmitate, Beta-Carotene, Folic Acid, Potassium Iodide, Sodium Selenate, Chromium Chloride, Vitamin K1, Biotin, Vitamin D3, Vitamin B12
CONTAINS: MILK AND SOY INGREDIENTS