An essential formula for the management of hypoalbuminemia and constipation, Pro-Stat® Renal Care liquid protein is an enzyme-hydrolyzed concentrated complete protein with 15 grams of protein (30% DV), 5 grams of fiber (20% DV), and 90 k/cal per 30 ml (one ounce). Pro-Stat Sugar Free with Fiber is rich in Arginine, Glycine, Proline and Hydroxyproline with high nitrogen donor capability to accelerate tissue healing, a critical factor in replenishing depleted protein stores in patients with pressure ulcers, malnutrition, and low albumin levels. Pro-Stat is clinically proven to improve protein anabolism in hemodialysis patients.
All the Benefits of Pro-Stat Now with Fiber!
One ounce (30 ml) provides 15 g protein, 5 g fiber and 90 Kcal.
30 % DV of Protein, 20% DV of Fiber
Complete protein - hydrolyzed for rapid absorption.
Contains Fiber with Prebiotics to promote colon health & regularity
Low in Sodium, Potassium, Phosphorus
Ideal for med pass or as a supplement.
Acceptable for diabetics.
Low cost, easy-to-give, easy-to-take, ready-to-use liquid
Honey-like viscosity
Lactose free, gluten free, and soy free
Kosher
Available in 30 oz bottles and 1 oz unit dose packets

Model No. 60064: 30 oz bottles. Flavor: Tangerine. By Bottle (1 ct) or Case (6 ct)
NUTRITION INFORMATION PER 30ML SERVING

Calories, kcal
100
Protein, g
15
Fat, g
0
Carbohydrate, g
6
Fiber, g
3
Sodium, mg
50
Potassium, mg
20
Phosphorus, mg
50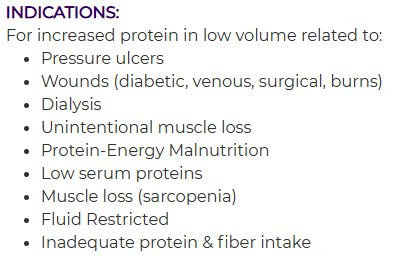 ADMINISTRATION:
Use under medical supervision. Healthcare professionals should determine intake based on condition, estimated need and dietary intake. Suggested intake: 1-3 servings per day. Administer orally or through feeding tube. Not suitable for use as a sole source of nutrition. Not for parenteral use. Suitable for adults.

ORAL FEEDING:
Can be taken straight or mixed with any hot or cold beverage or food.

TUBE FEEDING:
Flush feeding tube with 30-60 mL water.
Pour 30 mL of Pro-Stat® in a 4-6 fl oz container.
Add 30-60 mL water and mix well with a disposable spoon or tongue blade.
Administer Pro-Stat® via syringe.
Flush with 30-60 mL of water.
STORAGE:
Store at room temperature.
Refrigeration causes gelling.
Discard 3 months after opening.
Record date opened on bottom of container.
Do not use if seal is broken
Ingredients for Pro-Stat Renal Care: Hydrolyzed Collagen Protein, Purified Water,Glycerin, Polydextrose, Fructo-oligosaccharides (FOS), Malic Acid, Citric Acid, Phosphoric Acid, Flavor, L-Tryptophan, Sodium Citrate, Potassium Sorbate, Sodium Benzoate, Sucralose, and Neotame

Lactose Free, Gluten Free, Soy Free.