The Most Powerful Front Line Defense Against AAD* & C-diff**.

Diff-Stat is a unique formula that contains three clinically proven ingredients to help combat the effects of antibiotics on intestinal microbiota. It includes two proven probiotics that are heat and acid resistant and one prebiotic, together creating a synbiotic formulation that promotes intestinal health and strengthens immunity.

A recent survey showed that 97% of Residents taking Diff-Stat while on Antibiotics did not develop AAD, and 100% remained free of C-diff!

Diff-Stat is available in Pineapple/Orange flavored Chewable Tablets (30 tablets/bottle, 6 bottles/case) and Unflavored 2gram Powder Paks.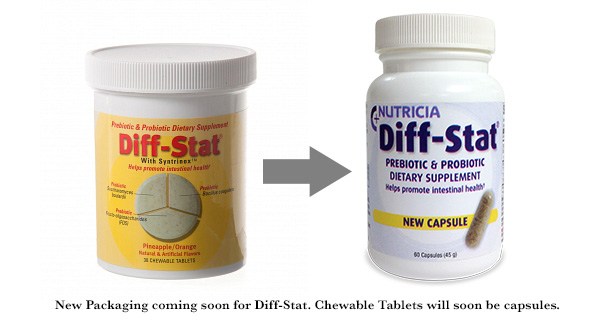 Indications
Recommended dose per serving
( tablet or 1 powder pak)
AAD & C-diff prophylaxis
1 time daily
AAD
2 times daily
C-diff
2 times daily
Multiple C-diff relapses
3 times daily
Maintain intestinal tract health
1 times daily


*AAD is Antibiotic Associated Diarrhea. **C-Diff is Clostridium difficile.
Prevention of AAD & C-diff. Residents/patients who are ordered a broad spectrum antibiotic should take the recommended dose at the start of antibiotic therapy and continue taking at least 2 weeks after completing antibiotics. Residents/patients who are not currently on antibiotics, but are at risk for AAD & C-diff should take the recommended dose for at least 30 days.

Diff-Stat should be taken 1 hour before or 2 hours after antifungal medications. Do not use if you have a yeast allergy. Keep bottle tightly closed. Store in a cool, dry place.Do not expose to expose to excessive heat. No refrigeration required. Room temperature stable. 2 year shelf life.Manufactured in NSF® GMP registered facility.



*Saccharomyces bouldardi spores could be aerosolized or inadvertently introduced into a CVC line when the pak is open. These spores can float in the air and potentially contaminate the CVC line, therefore it is important to open and mix in another room. **Diff-Stat is only viable for 30 minutes in solution.