Made with real fruits such as apples, peaches, strawberries, blueberries and cherries. Mixed Fruit and Berry Puree is a mixed fruit and berry puree that can also be a refreshing dessert. Combine with Maple Cinnamon French Toast Puree for a delicious cobbler, add whipped topping for a fruit parfait, or mix with vanilla pudding for a berry sorbet.
Designed for those who need pureed, soft meals due to swallowing difficulties or texture sensitivites.

* Unopened, this product will be stable for up to 24 months when stored in a cool, dry place. Refrigerate after opening in a separate container.

Model No. H316-F8800: 15 oz. Cans | About 5 servings per can | 12/Case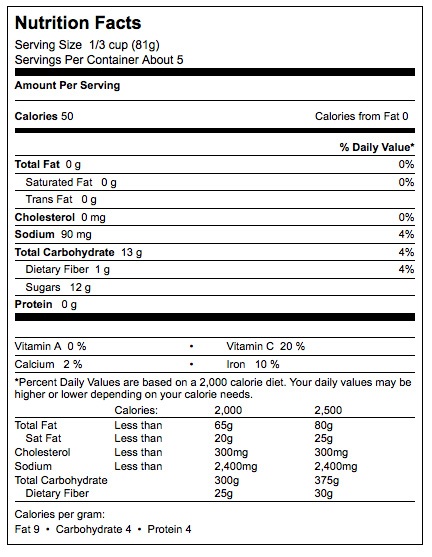 Directions:?
Steam, Microwave or Heat in Saucepan to 160º and serve.

• Convenient – Ready-to-eat/open, heat and serve
• Flavorful – Made with real ingredients
• Reliable – Consistent texture and nutrition with 5 servings per can
• Versatile – May be shaped and frozen


Apples, Peaches, Water, Sugar, Strawberries, Blueberries, Cherries, Cranberries, Gellan Gum, Sodium Citrate.