When swallowing is an issue such as in the condition dysphagia, hydration could become a challenge. Increasing H2O intake is often a challenge for people dealing with swallowing functions but when using SimplyThick® Thickening Gel, reports show fluid intake is increased by 20% to 100%.
The reviews are in with patients and patient aids reporting that they prefer SimplyThick® Thickening Gel over other thickeners.
Some reasons why SimplyThick® is the best choice for optimal hydration include:
No aftertaste
No graininess
No powder lumps
Thickens any beverage
Low in carbohydrates and sodium
Does not affect beverage of choice taste
In addition to a pump bottle delivery option, SimplyThick® Thickening Gel has pre-measured packets allowing for fast and easy preparation of beverages anywhere. Individual servings packets are designed to thicken 4 oz. of beverage. Each packet produces either nectar or honey consistency. Two honey packets produce pudding consistency. Blenders and hand mixers are also great tools for bulk mixing.
SimplyThick® Thickening Gelbrings peace of mind quality, effective hydration from a brand you can trust.
Model 05000: 64 oz Bottles with Pumps, 6/case.
Click Here to order by packets.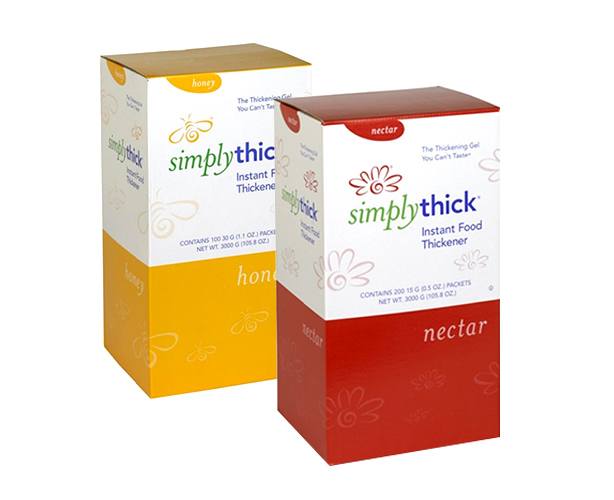 SimplyThick provides benefits beyond taste and appearance:

Quick. Ready to drink within seconds, not minutes.

Stable. Does not thicken over time. Make beverages long before they are served.

More Beverages. Hot or cold, thicken water, coffee, juice, ice, soda, supplements, milk, tea, soup, beer, wine, mixed drinks, and more.

No Lumps. As a gel, can not form powder lumps.

Reproducible. Always the same consistency, regardless of who prepares beverage.

Hygienic. Single-use packaging. No scoops, spoons, or open containers.

Simple. Identical preparation regardless of consistency or beverage. No thickening charts. No messy powders.

Dietary Benefits. Soluble food fiber. Adds few calories. Low in carbohydrates. Very low in sodium.

Click Here To Learn More on How SimplyThick Works
---
How long may SimplyThick products be stored?

SimplyThick products may be stored unopened in its original packaging for up to 12 months from its manufactured date. This "Best If Used By Date" is stamped on each packet and printed on bottle labels in MMDDYY format. If you have a packet or bottle that is beyond this date, it may be a little more difficult to mix into solution but should still function properly.

Once a bottle is opened, you should use within 90 days. On the back label of the bottle is a place where you can write the date opened.

Once a beverage is mixed with SimplyThick you should consume within 72 hours. Store leftover beverages in the refrigerator.
---
Can I use SimplyThick products in the microwave oven?

Yes. Once SimplyThick gel is removed from the original packaging and mixed into beverages or pureed foods, it is safe to be heated and reheated in a conventional or microwave oven. For example, if a cup of coffee thickened with SimplyThick gel gets too cold, you can reheat in the microwave.
However, SimplyThick packets should NOT be used in a microwave oven because the packets contain a metalized foil.
---
Can you freeze beverages or food thickened with SimplyThick gel?
Yes. SimplyThick will maintain a nice uniform thickness in a beverage or pureed food that is frozen and then thawed. This means you can use SimplyThick gel to make ice cubes and frozen pop treats that melt into proper consistency.
---
What can SimplyThick gel thicken?
SimplyThick can thicken just about any liquid, whether hot or cold. This includes water, juice, MiraLAX ® ,soda, milk, coffee, tea, soups, purees, beer, wine, and mixed drinks.
---
Download our SimplyThick Recipe Book