Size Newborn to Size 7 Available - Combines great performance, design, construction, Cuties Premium Baby Diapers by First Quality, makers of Prevail, fit comfort and peace of mind into each diaper they make. Our Soft Stretchy Waist and Side Panels move with your baby to help prevent leaks. Cotton enhanced dryness layer to keep baby's sensitive skin nice, dry, comfy & cute, all day & every night.

What's more, each baby diaper is printed with our special Animal Alphabet graphics system, which are light and delightful and inspire creativity and learning at each and every stage. Each diaper is clearly marked with the size on the center of the back. All products are proudly made in the USA.
Cuties truly cares:
Free of latex, fragrances, lotions & dyes
Hypoallergenic. Dermatologically tested (but not on animals)
Elemental chlorine-free fluff
No Lead or any heavy metals in our ink
Produced in a Zero Waste to Landfill facility
Cuties Baby Diapers match the quality and absorbency of Pampers®, Huggies®, Kirkland, and Target Overnight Diapers.
Available Sizes for the Cuties Baby Diapers (By Bag or Case)
| | | | |
| --- | --- | --- | --- |
| Size | Weight | Model No. | Packaging |
| Newborn | Up to 10 lbs. | CR0001 | 4 bags of 42 (168 ct.) |
| Size 1 | 8-14 lbs. | CR1001 | 4 bags of 50 (200 ct.) |
| Size 2 | 12-18 lbs. | CR2001 | 4 bags of 42 (168 ct.) |
| Size 3 | 16-28 lbs. | CR3001 | 4 bags of 36 (144 ct.) |
| Size 4 | 22-37 lbs. | CR4001 | 4 bags of 31 (124 ct.) |
| Size 5 | 27+ lbs. | CR5001 | 4 bags of 27 (108 ct.) |
| Size 6 | 35+ lbs. | CR6001 | 4 bags of 23 (92 ct.) |
| Size 7 | 41+ lbs. | CRD701 | 4 bags of 20 (80 ct) |
Cuties Baby Diapers Features by Size:
Newborn: Umbilical Cut-out
Newborn, Size 1 & Size 2: Wetness Indicator
Size 3, Size 4, Size 5 & Size 6: Up to 12 hrs. Leakage Protection
Need help deciding on the best size? Trial Samples are available. $1.00 per piece, and Ship Free. Order Limit: 3 Samples per item, 9 Samples per customer. Click here to get a sample
Cuties Baby Diapers feature:
- Hypoallergenic
- Soft, Cloth-Like Outer Fabric
- Breathable Zones
- Inner Leg Cuffs
- Elastic Waistband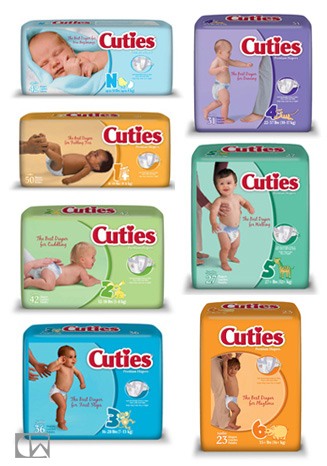 Need help deciding on the best size? Trial Samples are available. $1.00 per piece, and Ship Free. Order Limit: 3 Samples per item, 9 Samples per customer. Click here to get a sample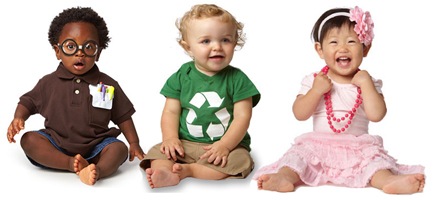 Related Article: Make Baby Care Easier With CWI's Recommended Products