Size Newborn to Size 7 Available - Combines great performance, design, construction, Cuties Premium Baby Diapers by First Quality, makers of Prevail, fit comfort and peace of mind into each diaper they make. Our Soft Stretchy Waist and Side Panels move with your baby to help prevent leaks. Cotton enhanced dryness layer to keep baby's sensitive skin nice, dry, comfy & cute, all day & every night.
Features for Cuties Essentials Baby Diapers (new Packaging & updates)
Breathable Backsheet
Modern Backsheet Designs
Wetness indicator on all sizes
Amazing absorbency with its profiled core and dual leg gathers
Integrated hooks for opening and closing tabs easily and securely
Cuties Baby Diapers Features by Size Specific to what is needed at that size & age
| | | |
| --- | --- | --- |
| Size Newborn | Size Newborn, Size 1 and 2 | Size 3 through Size 7 |
| Umbilical Cut-out | UltraSoft™ Hypoallergenic Liner | Quilted/Embossed core for sizes |
| | Overlapping Fasteners | Up to 12 hrs. Leakage Protection |
What's more, each baby diaper is printed with cute pattern, which are light and delightful and inspire creativity and learning at each and every stage. Each diaper is clearly marked with the size on the front. All products are proudly made in the USA.
Cuties truly cares:
Free of latex, fragrances, lotions & dyes
Hypoallergenic. Dermatologically tested (but not on animals)
Elemental chlorine-free fluff
No Lead or any heavy metals in our ink
Produced in a Zero Waste to Landfill facility
Cuties Baby Diapers match the quality and absorbency of Pampers®, Huggies®, Kirkland, and Target Overnight Diapers.
Available Sizes for the Cuties Baby Diapers (By Bag or Case)
| | | | |
| --- | --- | --- | --- |
| Size | Weight | Model No. | Packaging |
| Newborn | Up to 10 lbs. | CR0001 | 4 bags of 42 (168 ct.) |
| Size 1 | 8-14 lbs. | CR1001 | 4 bags of 50 (200 ct.) |
| Size 2 | 12-18 lbs. | CR2001 | 4 bags of 42 (168 ct.) |
| Size 3 | 16-28 lbs. | CR3001 | 4 bags of 36 (144 ct.) |
| Size 4 | 22-37 lbs. | CR4001 | 4 bags of 31 (124 ct.) |
| Size 5 | 27+ lbs. | CR5001 | 4 bags of 27 (108 ct.) |
| Size 6 | 35+ lbs. | CR6001 | 4 bags of 23 (92 ct.) |
| Size 7 | 41+ lbs. | CRD701 | 4 bags of 20 (80 ct) |
Need help deciding on the best size? 2/Pack Trial Samples are available. Limit one (1) pack per household. Samples ship within 7 to 10 business days, and sent from the manufacturer.
FAQs for Cuties Baby Diapers
Are Cuties products safe for my baby?
That's a firm yes. Our diapers are hypoallergenic, dermatologically tested, unscented, elemental chlorine free, free of latex, lotions, lead or any heavy metals. And we use sustainably sourced fluff. Our wipes are also hypoallergenic, dermatologically tested, free of chlorine, alcohol, lotions, oils & dyes.
Are your products tested on animals?
No way. Our diapers & wipes are most certainly not tested on animals.
Do you offer night time diapers?
Our diapers are so super soft and super absorbent, they're good for day and night.
Some sizes overlap in weights. How do I know which size to go with?
We do have a sizing chart for your reference. If your baby falls between sizes you might want to size up for the little chunksters and size down for the pint-sized peanuts. When in doubt, size up. They grow up so quickly.
Are Cuties Chlorine Free?
You bet. Cuties doesn't add chlorine to diapers. Instead, we use an elemental chlorine-free process to purify the fibers in our diapers. The FDA considers this method to be safe and dioxin free. We like that. And we think your babies will too.
Where are Cuties diapers made?
Our diapers are responsibly made in the USA, specifically in Lewistown, PA & Macon, GA.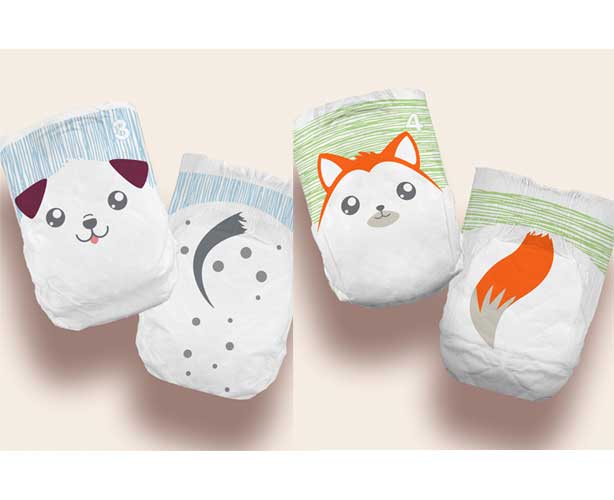 ---
Need help deciding on the best size? Trial Samples are available. $1.00 per piece, and Ship Free. Order Limit: 3 Samples per item, 9 Samples per customer. Click here to get a sample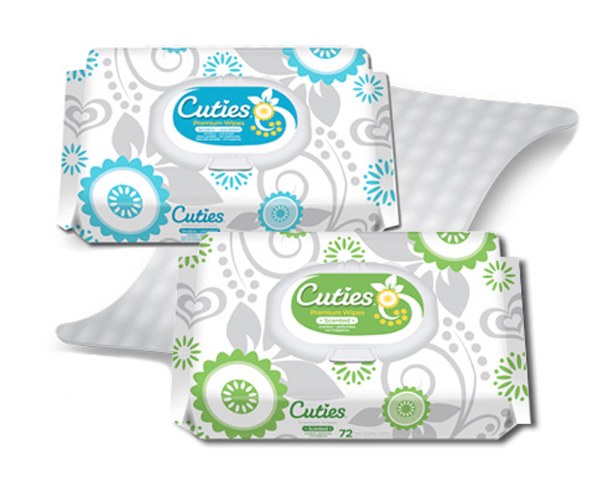 Get Cuties Baby Wipes for a soft, premium, excellent cleaning baby wipe
Related Article: Make Baby Care Easier With CWI's Recommended Products
Our diapers are made with SFI Sustainably-sourced fluff (elemental chlorine free), non-toxic superabsorbent polymer (sodium polyacrylate), chlorine free cotton-enhanced™l nonwoven dryness layer, polypropylene nonwoven fabrics, non-latex elastics (stretch sides, waist, legs), fastening system, breathable moisture barrier, safe adhesives, inks (made without lead & heavy metals).