The Peach Mat of our Tranquility Personal Care Pads guarantees skin dryness, odor reduction, neutralization of urine pH and inhibition of bacterial growth. With a high performing acquisition layer and embossed channels, these pads absorb fluid rapidly, and prevent leakage while protecting delicate skin from the effects of wetness.
Individually wrapped, our Tranquility Personal Care Pads are held in place with an adhesive strip, and gentle elastics forming a cup shape that enables
a secure fit.

Available by Bag, Half Case*, or Full Case.
| Model | Sizing | Capacity | Packaging |
| --- | --- | --- | --- |
| 2381 | 13.5" x 6.5" | 15.2 oz / 450 ml | 4 bags of 24 (96 ct) |

*Half Case has 2 bags of 24 (48 ct).
$10 Rebate Available for this item.* Use Promo Code TRAREBATE at check-out, and the Mail-In Rebate will be included in your order.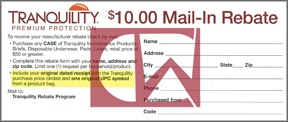 *Limit one (1) request per household/product. Rebate applies to any CASE of Tranquility Incontinence Products: Briefs, Disposable Underwear, Pads, Liners with a sale price of $50 or greater.