A natural urinary tract cleansing complex that is natural, gentle and effective. UTI-Stat with Proantinox contains a proprietary blend of concentrated Cranberry Proanthocyanidins, Ascorbic Acid, D-Mannose, FOS and Bromelain - to inhibit adhesion of infection causing E. Coli bacteria to urinary tract walls, increase urinary acidity to create a less tolerable environment for E.Coli, and stimulate the growth of probiotic bacteria in the small and large intestines. UTI-Stat has been shown effective in reducing symptomatic UTIs, including urgency and frequency of urination, when used in conjunction with hydration and a hygiene program. UTIStat helps to support urinary tract health and prevent recurrence of infection.

Each one ounce (30 ml) serving of UTI-Stat with Proantinox provides as much cranberry proanthocyanidins as approximately five 450 mg cranberry tablets (equivalent to 16 eight oz glasses of cranberry juice cocktail). Can be used orally or with tube feeding.

Facts about Urinary Tract Infections (UTIs):
- Annually affect over 7 million men and women per year at a cost of over 1 billion dollars.
- Up to 40% of nursing home residents contact urinary tract infections leading to significant morbidity.
- Severe UTI can cause hospitalization, sepsis, and even mortality.
- E.Coli bacteria cause 90% of UTI.
- Primary treatment is antibiotic therapy, contributing to excessive antimicrobial usage.
- The National Center for Complementary Medicine reported that cranberry proanthocyanidins (PAC) help reduce the adhesion of certain E. Coli bacteria to the urinary tract walls.
- 14 separate studies have shown that cranberry PAC can prevent the adhesion of E.Coli to urinary tract walls.

UTI-Stat is available in single 1oz Unit Doses, 30 oz. Bottle or 4 Bottles/Case. Natural Cranberry flavor.
Model 60001.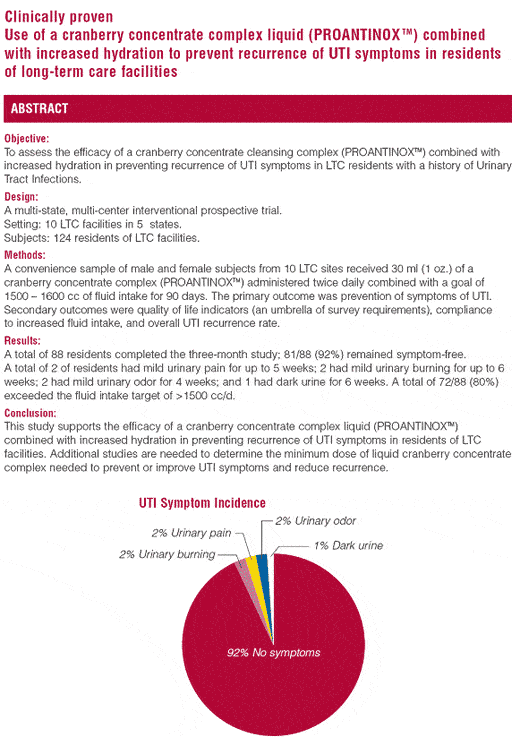 Suggested Indications: Helps supporturinary tract health. Aids in reducing symptomatic UTIs including urgency andfrequency of urination when used in conjunction with hydration and a hygiene program.
Use orally or with tube feeding.
Store and serve at room temperature. Refrigeration not necessary.

Directions: Take two tablespoons(one oz) up to two times a day as needed. (Can also be mixed with any hot or coldbeverages.) UTI-Stat is a medical food. Consult your health care professionalon use of this product.

Note: Not a substitute for antibiotics
Caution: May increase the effects of Warfarin therapy - consult physician.

U.S. patent pending (Composition for prevention and treatment of urinary tractinfections).
Item # 60001 NDC: 26974-0410-66 HCPCS Code B4104
PROANTINOX® (CranberryConcentrate [4:1], Ascorbic Acid, D-Mannose, FOS [Inulin]), and Bromelain, FilteredWater, Glycerin, Acesulfame-K, Sucralose, Natural Color, Phosphoric Acid, SodiumBenzoate, and Potassium Sorbate. Lactose and GlutenFree.