A ready to serve gelatin with 220 calories and 20 grams of protein packed in 4 ounces, our ProSource Gelatein Plus with MCT oil tastes amazing, and is lactose free. Some may call Gelatein, protein jello.
Cool and refreshing, this "Jello" gelatin breaks up having routine nutritional shakes by providing variety, and because it is made with MCT oil (medium chain triglycerides), it requires less energy for absorption, utilization and storage than long chain triglycerides like corn or soy oil found in most shakes.
Gelatein Plus provides the protein and calories your patients or loved-ones need for recovery or weight gain using hydrolyzed protein and MCT oil for easier absorption.
Appropriate for nectar-thick and honey-thick dysphagia diets.
Flavor: Tropical Lime
Model No. 11697 : 4 oz Cups, Case (36 ct)
Kcal/ml: 1.83
Caloric Distribution (% of kcal)
Protein: 36%
Carbohydrate: 46%
Fat: 18%
Fat Source:
MCT Oil
Protein Source:
Hydrolyzed collagen
Whey protein isolate
Osmolality: 185 mOsm/Kg water
Appropriate for these diets:
Gluten Free, Fluid Restricted, Dysphagia Thickened Liquid Diets, MCT Diet
Contains no Vitamin K.
Contains citrus.
Allergen: Milk
Shelf Life: 18 months
Shelf stable. Does not require refrigeration.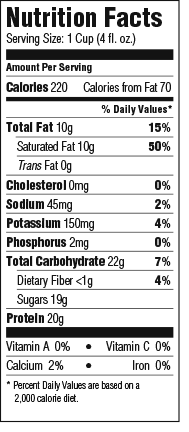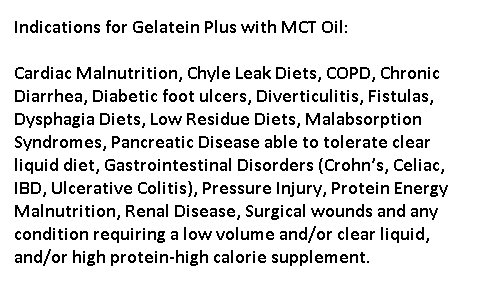 Not a sole source of nutrition.
For Oral use only.
Each 4 oz. serving of ProSource Gelatein Plus contains 220 calories and 20 grams of high quality protein.
Current RDA for protein intake is 0.8 gm protein/kg/day. More protein may be required for certain conditions.
Recommended servings per day: 1-2 servings with a maximum of 3 servings per day.
Ingredients for Gelatein Plus with MCT Oil
Purified Water, Collagen Hydrolysate, Sugar, Medium Chain Triglycerides, Malic Acid, Carrageenan & Locust Bean Gum, Natural Flavor, Potassium Citrate, Whey Protein Isolate, L-Tryptophan, Potassium Sorbet and Sodium Benzoate (preservatives), Sucralose, Yellow 5 and Blue. Contains milk.
Contains citrus.