For Moderate Protection. Designed to be worn in regular underwear, their adhesive strip on the back will secure placement. Our Tranquility Adult Liners have excellent absorption capacities, and maintain skin dryness, control odor, and provides peace of mind.
Our Tranquility Adult Liners are discreet, and for individuals with an active life-style. The Lycra® leg gathers with contour fit helps to prevent leakage. Latex-free.
| Model # | Sizing | Capacity | Packaging |
| --- | --- | --- | --- |
| 2078 | 24" x 9" | 15.5 oz | 4 bags of 30 (120 Ct) |

For Tranquility Super-Plus Adult Liners, Click Here.
$10 Rebate Available for this item.* Use Promo Code TRAREBATE at check-out, and the Mail-In Rebate will be included in your order.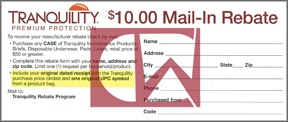 *Limit one (1) request per household/product. Rebate applies to any CASE of Tranquility Incontinence Products: Briefs, Disposable Underwear, Pads, Liners with a sale price of $50 or greater.