Best Price! Delivering more calories per serving than our standard 1.0 formula, BOOST KID ESSENTIALS 1.5 Cal is ideal for kids ages 1 to 10 with increased caloric needs. Rich in calcium and lactose free, Boost Kid Essentials 1.5 Cal supports bone growth.

Boost Kid Essentials 1.5 Cal is ready to use - no need to dilute, mix or modify. Also available with soluble fiber to help with bowel management. Specially designed for children ages 1 to 10.
Delivers more calories per serving than standard 1.0 formulas

Meets the 2011 IOM recommendations for calcium & vitamin D

Contains CalciLock

®

blend of essential nutrients which may help support healthy bone development.


Nutritionally complete formula for tube feeding or oral use
This calorically-dense pediatric formula delivers critical whole-protein nutrition in fewer servings, and may be consumed orally or used as a tube feeding.
Available Flavors
| | | |
| --- | --- | --- |
| Flavor | Model No. | Packaging |
| Very Vanilla | 33540000 | 8 fl oz Brik Pak, Case (27 ct) |
| Very Vanilla with Fiber | 33500000 | 8 fl oz Brik Pak, Case (27 ct) |
| Rich Chocolate | 33580000 | 8 fl oz Brik Pak, Case (27 ct) |
| Creamy Strawberry | 33590000 | 8 fl oz Brik Pak, Case (27 ct) |
*For Model No. 33500000 - Fiber blend helps support digestive health and normal bowel function.
CalciLockis a combination of essential nutrients to help build and maintain strong bones. This nutrient blend includes calcium, phosphorus, magnesium, zinc, and vitamins D, C & K and is designed to help support healthy bone development
Healthcare Disclaimer: Content on this site is for reference purposes only. CWI Medical does not represent or warrant that the nutrition, ingredient, allergen and other product information on our Web or Mobile sites are accurate or complete, since this information comes from the product manufacturers. On occasion, manufacturers may improve or change their product formulas and update their labels. We recommend that you do not rely solely on the information presented on our Website and that you review the product label or contact the manufacturer directly if you have specific product concerns or questions. If you have specific healthcare concerns or questions about the products displayed, please contact your licensed healthcare professional for advice or answers.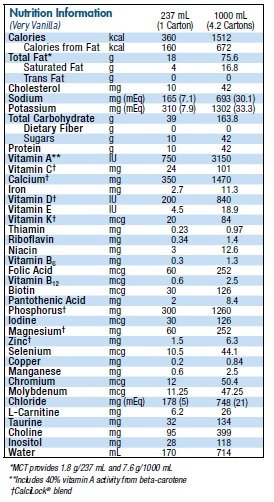 Boost Kid Essentials 1.5 Cal may generally be used in conjunction to:
Failure to thrive
Crohn's disease
Cardiac conditions
Cancer
Cystic Fibrosis
Fluid-, volume-restricted patients
Cerebral palsy
Increased caloric requirements

Inadequate oral intake

Elevated caloric needs
Volume Intolerance
Shortened feeding schedules
Malnutrition

Bowel function

(For With Fiber Formula, Model No.

33500000

)
For Boost Kid Essentials 1.5 Cal without Fiber
kcal/mL 1.5
Caloric Distribution (% of kcal)
Protein 11%
Carbohydrate 44%
Fat 45%
Protein Source sodium and calcium caseinates (milk), whey protein concentrate
NPC:N Ratio 199:1
MCT:LCT Ratio 10:90
n6:n3 Ratio 6.9:1
Osmolality (mOsm/kg water) 390
Water 72%
Meets or exceeds 100% DRIs? for protein and 25 key vitamins and minerals:
1-8 years 750 mL
9-13 years 1000 mL
HCPCS Code B4160
Appropriate for:
lactose intolerance*, gluten-free, low-residue, kosher

* Not for patients with galactosemia
---
For Boost Kid Essentials 1.5 Cal with Fiber

kcal/mL 1.5
Caloric Distribution (% of kcal)
Protein 11%
Carbohydrate 44%
Fat 45%
Protein Source sodium and calcium caseinates (milk), whey protein concentrate
NPC:N Ratio 199:1
MCT:LCT Ratio 10:90
n6:n3 Ratio 6.9:1
Osmolality (mOsm/kg water) 405
Water 71%
Meets or exceeds 100% DRIs? for protein and 25 key vitamins and minerals:
1-8 years 750 mL
9-13 years 1000 mL
Fiber Content (Source) 8 g/L
(PHGG, soy fiber)
HCPCS Code B4160



Very Vanilla - Ingredients for Boost Kid Essentials 1.5 Cal

Water, Maltodextrin, Soybean Oil, Sodium Caseinate (from Milk), Sugar and less than 2% of High Oleic Sunflower Oil,Whey Protein Concentrate, Medium Chain Triglycerides (from Coconut and/or Palm Kernel Oil), Calcium Caseinate, Calcium Phosphate, Potassium Citrate, Soy Lecithin, Magnesium Phosphate, Cellulose Gel And Gum, Salt, Choline Chloride Ascorbic Acid, Carrageenan, Natural and Artificial Flavor, Potassium Chloride, Taurine, Inositol, Ferrous Sulfate, L-Carnitine, Alpha-Tocopheryl Acetate, Niacinamide, Calcium Pantothenate, Zinc Sulfate, Vitamin D3, Vitamin A Palmitate, Copper Gluconate, Manganese Sulfate, Pyridoxine Hydrochloride, Thiamine Hydrochloride, Riboflavin, Beta-Carotene, Sodium Selenite,
Folic Acid, Chromium Chloride, Biotin, Potassium Iodide, Sodium Molybdate, Phytonadione, Vitamin B12
Very Vanilla with Fiber - Ingredients for Boost Kid Essentials 1.5 Cal

Water, Maltodextrin, Soybean Oil, Sodium Caseinate (from Milk), Sugar and less than 2% of High Oleic Sunflower Oil, Whey Protein Concentrate, Partially Hydrolyzed Guar Gum, Medium Chain Triglycerides (from Coconut and/or Palm Kernel Oil), Calcium Caseinate, Calcium Phosphate, Soy Fiber, Potassium Citrate, Soy Lecithin, Magnesium Phosphate, Salt, Choline Chloride, Ascorbic Acid, Carrageenan,

Natural and Artificial Flavor,

Potassium Chloride, Taurine,

Inositol,

Ferrous Sulfate, L-Carnitine, Alpha-Tocopheryl Acetate, Niacinamide,

Calcium Pantothenate,

Zinc Sulfate, Vitamin D
3
,

Vitamin A Palmitate,

Copper Gluconate,

Manganese Sulfate,

Pyridoxine Hydrochloride,

Thiamine Hydrochloride,

Riboflavin, B

eta-Carotene, Sodium

Selenite

, Folic Acid,

Chromium Chloride, Biotin

, Potassium Iodide, Sodium Molybdate, Phytonadione, Vitamin B
12