Save time on a consuming task for nurses with our automatic Powdercrush Pill Crusher designed to easily crush tablets for seniors in long term care settings.
Instead of having to endure repetitive crushing of medications which may cause repetitive strain injuries, our portable, battery-powered PowderCrush Medication Crusher may help avoid injuries by crushing medications, fast, easy and painless.
Typical crushing time with Powdercrush Automated Tablet Crusher is less than five seconds. Simply push a button.
Powdercrush is great for long-term care, pharmacies, hospitals and correctional facilities.
It saves time,

eliminates the problem of cross contamination, and

crushes meds to a superfine powder.

It's portable, powerful and easy to operate.
Powdercrush Automatic Pill Crusher is powered by 2 long-lasting rechargeable batteries (charger included).
Model No. 39-011PE
Additional Information for the Powdercrush Pill Crusher
It is lightweight, (weighing only 6 lbs.), portable (11.5" long, 3.75" high and 3.25" wide) and built to last.
Powered by a lithium Polymer rechargeable battery pack 25.9 volt 1500 mAh with a power meter located on the top of the unit.
Batteries should be charged as required if your medication pass requires 25% of the battery capacity (depending on amount of medication crushed). You should recharge when the power meter indicates 25%.
Has a built-in "smart" charger. It will analyze the condition of the battery and charge accordingly. It will not overcharge, nor overheat. It will not run while the charger is connected.
The power meter has LEDs that will light up when the button is depressed to start the crushing procedure. The In use LED will flash green when the unit is in use. The red LED will flash when the unit needs charging at the point that the capacity left in the battery is 10% or less. You should never run the battery totally empty as there is the possibility of damage to the battery.
Charging time is minimum 4 hours for a full charge.
How Powdercrusher Medication Crusher Works
1. Place pills to be crushed in a Powdercrush™ specific disposable medication pouch. Fold over the top of the pouch to keep the powder inside the pouch.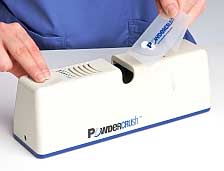 2. With one hand, insert the disposable medication pouch filled with pills in the slot on top of the machine. Press down on the start button to crush meds.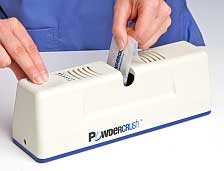 3. Typically, 4 - 5 seconds will produce the desired results. For a finer powder operate for a longer period.
We are a 229 bed skilled nursing facility located in southeastern Wisconsin. My nurses are very impressed with your product. We were searching for a portable device that would be easy to use, yet powerful enough to crush multiple medications. From the minute the product was put into use, the nurses noted less soreness and discomfort that comes from using a manual crushing method. This product is also a time saver during busy med pass times. Thank you for coming up with such a useful tool!
- Kelli De Ruyter, RN, D.O.N Cedar Lake Health Care Center
Your machine was recommended by our liaison officer at an annual inspection that we had in our Nursing Home. She had noticed that the RN's were doing a lot of pounding and noise with our medication crushing. We had seen the Pill Crusher in one of our magazine we receive monthly. We were very pleased with the fact that we could try it for a month at no cost, that way it gave us a chance to work with it and see the difference that it made with everybody's shoulders and the noise pollution. We knew after 2 weeks that it was a keeper. We liked it so much that we didn't hesitate to buy a second one.
- Warren B., Bayside, NY
Pill Crusher Force tests
The necessary force required to crush medication was tested using three pill crushers; the Pharmacrush, the Silent Knight and the Powdercrush. These tests were conducted using large Calcium tablets and the force was measured by a Chatillon Force Gauge. Four trials were conducted where one tablet was crushed at a time by each crusher. By comparing the test results we can see that there are differences in the force levels required to crush medication from one crusher to another. Below is the data.
Pill Crusher

Force required per trial

Average Force

Pharmacrush

32.875 Lbs

Silent Knight

17 Lbs

PowderCrush

0.25 Lbs
Please be advised that this was not a controlled study as not all variables were controlled and the sample size was too small.

In conclusion, the Pharmacrush required almost twice as much force to crush the tablets as the Silent Knight. The Powdercrush required virtually no force to crush the tablets. Past ergonomic research has suggested that a reduction in force can lead to a reduced risk of injury.

Jennifer Kenny BscKin
Ergonomics Consultant
The Powdercrush Automatic Pillcrusher Demonstration