Devised to help individuals unable to meet their protein requirement from a standard diet, Pro-Stat Max Liquid Protein is an easily digested high quality liquid protein developed for better absorption and digestibility and utilization for protein synthesis.
With the ideal amount of all 9 essential amino acids necessary for efficient protein synthesis.
Ready for use to drink or can be mixed with any hot or cold beverage or food
Providing a PDCAAS(Protein Digestibility Corrected Amino Acid Score) of 100%
Whey based hydrolyzed complete protein
11g of protein and 80 Cal in each 1 Fl. Oz. serving
Sugar free, Gluten free, and Soy free
Taste of grape
Available packaging for Pro-Stat Max Liquid Protein
| | | |
| --- | --- | --- |
| Model No. | Flavor | Size and Packaging |
| 90001-U | Grape | 1 oz Unit Doses, Case (96 ct) |
| 90001 | Grape | 30 oz Bottles, Available by Each of Case (4 ct) |
Nutrition Information per 30ml serving

Calories, kcal
80
Calories per mL
2.7
Protein, g
11
Fat, g
0
Carbohydrate ,g
9
Sodium, mg
35
Potassium, mg
40
Phosphorus, mg
60
Calcium, mg
60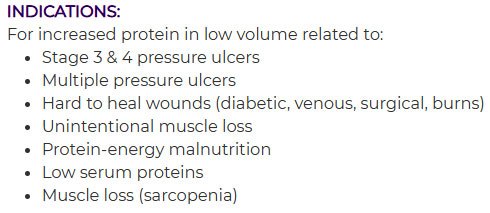 Suggested Indications:
For increased protein in low volume related to
Administration:
Use under medical supervision. Healthcare professionals should determine intake based on condition, estimated need and dietary intake. Suggested intake: 1-3 servings per day. Administer orally or through feeding tube. Not suitable for use as a sole source of nutrition. Not for parenteral use. Suitable for adults. Shake well before opening.

Oral Feeding:
Can be taken straight or mixed with any hot or cold beverage or food.

Tube Feeding:
Flush feeding tube with 30-60 mL water.
Pour 30 mL of Pro-Stat® in a 4-6 fl oz container.
Add 30-60 mL water and mix well with a disposable spoon or tongue blade.
Administer Pro-Stat® via syringe.
Flush with 30-60 mL of water.
Storage:
Store at room temperature.
Refrigeration causes gelling.
Discard 3 months after opening.
Record date opened on bottom of container.
Do not use if seal is broken.
Water, Glycerin, Hydrolyzed Whey Protein, Hydrolyzed Collagen Protein, Malic Acid. Contains 2% or Less: Natural & Artificial Flavor, Phosphoric Acid, L-Phenylalanine, L-Histidine, L-Tryptophan, L-Methionine, Sucralose, Potassium Sorbate (To Help Protect Flavor), Sodium Benzoate (To Help Protect Flavor). Contains milk (whey).