Ready-to-drink and made from 100% juice, our Thick-It Thickened Canberry Juice contains no fructose corn syrup or added sugars. Add this delicious juice to your breakfast, lunch or dinner menu, freeze into a popsicle treat or enjoy anytime you are looking for a refreshing, nutritious juice break.
Our AquaCareH2O Cranberry Juice is specifically designed to provide proper nutrition and hydration for people with swallowing disorders.
Shelf Life
9 months unopened
14 days opened and refrigerated
24 hrs opened atroom temperature
ThickIt AquaCare H2O is Kosher, Kosher for Passover and gluten free. Enjoy the conveniency as Thick-It AquaCareH20 beverages are available in nectar and honey consistencies. There is no mixing, and the bottles are resealable.
Clear, Thickened with Xanthan Gum
Reliable – Maintains proper consistency over time and temperature
Versatile – Chill or heat; freeze to make ice cubes or frozen treats
Availability
| | | |
| --- | --- | --- |
| Model | Consistency | Packaging |
| B458-A5044 | Nectar | 64oz bottle, 4 bottles/case |
| B459-L9044 | Nectar | 8oz bottle, 24 bottles/case |
| B460-A5044 | Honey | 64oz bottle, 4 bottles/case |
| B461-L9044 | Honey | 8oz bottle, 24 bottles/case |
Introducing IDDSI, the new standards for the dysphagia diet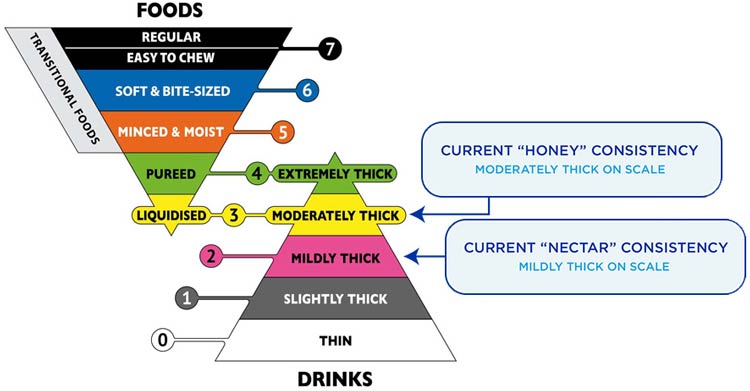 Artesian Mineral Water, Juice Concentrates (Pear Juice Concentrate and/or Apple Juice Concentrate, Cranberry Juice Concentrate), Xanthan Gum, Citric Acid, color (Red 40), Artificial Flavor [includes Color (Red 40, Caramel Color)], Potassium Sorbate and Sodium Benzoate (to preserve freshness), Ascorbic Acid (Vitamin C).
Thick-It AquaCareH2O Thickened Beverages Overview