Designed for simple, quick use in situations that require maximum flexibility in thickening, use the SimplyThick EasyMix bottle and pump to get 3 different consistencies, nectar, honey, and pudding.
Simply mix with a spooon, straw, or fork (no shaking required), and your beverage is thickened to your desired consistency, and ready to drink within seconds!
Our flavorless SimplyThick EasyMix Thickening Gel will not continue to thicken or separate over time, and will stay the same smooth consistency that you intended, whether as nectar, honey, or pudding consistency. And since it is a gel, it does not form powder lumps ever.
SimplyThick consistencies are reproducible regardless of who is preparing the beverage.
Along with Fortified Drinks, SimplyThick Thickening Gel works in all these beverage and drink favorites:
| | | | |
| --- | --- | --- | --- |
| Juice | Water | Coffee | Beer |
| Milk | Ice | Tea (Hot or Cold) | Wine |
| Soup | Broth | Hot Chocolate | Ice Cream |
This SimplyThick EasyMix is available in a 55 oz bottle with a pump. This is because the new formula is 2.5x the concentration of the "classic" bottle. Therefore, one bottle could last 2.5 times longer that the previous bottle.
The NEW pump is calibrated to dispense 6 grams of gel per stroke (or full depression of the pump). Thus, to thicken 4oz of a beverage, you would use 1, 2, or 4 strokes to obtain nectar, honey, or pudding consistency.
Model No. ST2LBOTTLE: 55 fl oz Bottle & 1 pump (1 of each)
Need premeasured & travel-ready packets? View SimplyThick EasyMix Gel Thickening Packets
FAQs for SimplyThick EasyMix Thickening Gel
Get the Starter Kit to try out Simply Thick Thickening Gel
Please Note: SimplyThick EasyMix Bottle replaces SimplyThick's 01001, 02001, 01004, 02004, 05000, 05005, and 05010
Nutrition Profile for SimplyThick EasyMix Thickening Gel, 2 Liter Bottle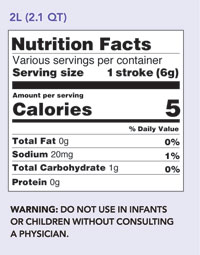 For Simply Thick Easy Mix Thickening Gel Bottle and Pump Desired Consistencies
Desired
Consistency

Per 4 oz. /
120 ml

Per 8 oz. /
240 ml

Per 32 oz. /
950 ml

Nectar (Level 2
Mildly Thick)

1 Stroke
2 Strokes
8 Strokes

Honey (Level 3
Moderately Thick)

2 Strokes
4 Strokes
16 Strokes

Pudding (Level 4
Extremely Thick)

4 Strokes
8 Strokes
32 Strokes
* In some drier climates it may be necessary to wipe more than once a day.
To Use the Leftover Gel at the bottom of the SimplyThick Dispenser Bottles:
Remove the pump.
Turn bottle upside down into a measuring container.
Use chart below to prepare another beverage afterdetermining how much leftover gel you have.
Leftover SimplyThick

For Nectar (Level 2 Mildly Thick) –
Add to this amount of a beverage

For Honey (Level 3
Moderately Thick) –
Add to this amount of a beverage

For Pudding (Level 4 Extremely Thick) –
Add to this amount of a beverage

1 Tbsp. / 15 ml
12 oz.
6 oz.
3 oz.
1⁄8 cup / 30 ml
24 oz.
12 oz.
6 oz.
1⁄4 cup / 60 ml
48 oz.
24 oz.
12 oz.
3⁄8 cup / 90 ml
64 oz.
32 oz.
16 oz.
1⁄2 cup / 120 ml
96 oz.
48 oz.
24 oz.
FAQs for SimplyThick Thickening Gel
How long may SimplyThick products be stored?

SimplyThick products may be stored unopened in its original packaging for up to 12 months from its manufactured date. This "Best If Used By Date" is stamped on each packet and printed on bottle labels in MMDDYY format. If you have a packet or bottle that is beyond this date, it may be a little more difficult to mix into solution but should still function properly.

Once a bottle is opened, you should use within 90 days. On the back label of the bottle is a place where you can write the date opened.

Once a beverage is mixed with SimplyThick you should consume within 72 hours. Store leftover beverages in the refrigerator.
---
Can I use SimplyThick products in the microwave oven?

Yes. Once SimplyThick gel is removed from the original packaging and mixed into beverages or pureed foods, it is safe to be heated and reheated in a conventional or microwave oven. For example, if a cup of coffee thickened with SimplyThick gel gets too cold, you can reheat in the microwave.
However, SimplyThick packets should NOT be used in a microwave oven because the packets contain a metalized foil.
---
Can you freeze beverages or food thickened with SimplyThick gel?
Yes. SimplyThick will maintain a nice uniform thickness in a beverage or pureed food that is frozen and then thawed. This means you can use SimplyThick gel to make ice cubes and frozen pop treats that melt into proper consistency.
---
What can SimplyThick gel thicken?
SimplyThick can thicken just about any liquid, whether hot or cold. This includes water, juice, MiraLAX, soda, milk, coffee, tea, soups, purees, beer, wine, and mixed drinks.
---
Download our SimplyThick Recipe Book
Instructions to thicken MiraLAX for nectar or honey diets
MiraLAX® is a registered trademark of MSD Consumer Care, Inc, Memphis, TN.
Ingredients for SimplyThick gel thickener: Water. soluble fiber, xanthan gum, Glucono delta-lactone, gellan gum, potassium sorbate, calcium chloride, citric acid, sodium citrate, guar gum, and pectin.
SimplyThick EasyMix Thickening Gel Mixing Instructions