Spot Vision Screener Model VS100-B Box Contents
The main shipping box contains the vision screener, Instructions for Use, and the Accessory box.
The Accessory box contains:
1. AC Power Cord
2. Power Supply/Charger
3. Cleaning Cloth
4. Hook-and-loop Cable Straps
NOTE: Please do not discard the box and foam.
Damages incurred by shipping the device in nonapproved packing material will void the limited warranty.
If you purchased a carrying case, place the foam from the shipping box inside the carrying case for safer transport. Do NOT store your vision screener in the foam or case while the Power cord is plugged in.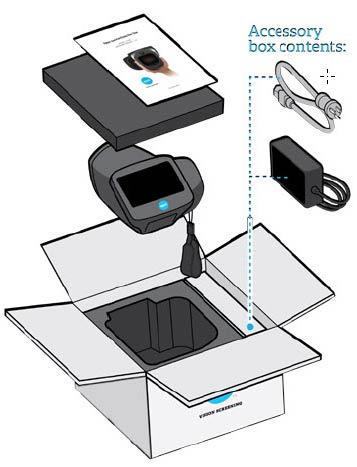 Does my Welch Allyn Spot Vision Screener VS100 require calibration?
Answer:
The Welch Allyn Spot VS100 Vision Screener has been calibrated as part of the manufacturing process and does not require calibration henceforth. The SPOT Vision Screener VS100 does not require annual device calibration.
When Welch Allyn VS100 Spot Vision Screener is fully charged, how many screenings will it do on average before needing to be charged again? How many screenings can I do on one charge?
Answer:
There is no set number of screenings per charge for VS100 Spot Visions Screener, but the device is expected to operate for over 4 hours with continuous screening. The reason there is no set number of screenings is due to variation in acquisition time of each subject.
What is the warranty on my Welch Allyn Spot Vision Screener VS100?
Answer:
The warranty on Spot Vision Screener VS100 and accessories is one year.
Where is the serial number located for my Welch Allyn Spot Vision Screener VS100?
Answer:
The serial number for SPOT VS100 Vision Screener is located on a label on the bottom of the unit.