A double-sealing system that locks in odors, our Janibell M400D Commercial Diaper Pail will help you create a fresh and hygienic childcare environment. Operated with a Hygienic, Hands-Free Foot Pedal, it was originally designed to meet the needs of child care centers, nursing homes and hospitals with a 13 gallon capacity.
Say goodbye to dirty diaper odors! The Janibell Baby Diaper Pail features:
Odor-Free - Double seal keeps your room smelling fresh.
Sanitary - Hands-free "step & drop" disposal
Safe - Available with optional safety lock (Call for Details: 1-877-929-4633)
High Capacity - Holds 13 gallons capacity
Economical - Waste-free continuous liner system
Durable - Designed to hold up to years of heavy use
Eco-Friendly - Fully biodegradable liner
Double-Sealing System for Extra Odor Control
Easy to Clean - Non-Porous ABS resin Surface Construction
Latex-Free
Soft-Close Lid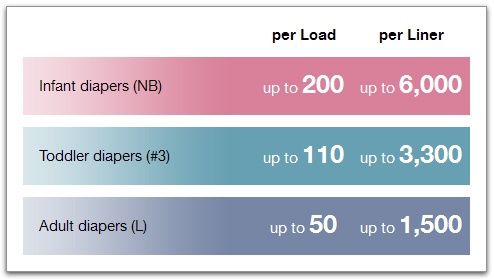 If your facility is using the most popular diaper disposal solution – which are actually designed for the residential market – if you make the switch to the Janibell 400D, Reduce Your Diaper Disposal Costs immediately, and see immediate savings - up to 96% .
# of Toddler Diapers (#3)
Disposed per Liner

Costs to Dispose
75,000 Diapers
per year

Janibell Model 400D
3,300
$135
Other Popular Brand
176
$3,615
Order with CWI Medical, and get a liner pre-installed, so your diaper pail is ready to use out of the box!
Janibell's unique fully enclosed continuous liner system makes emptying the unit at the end of the day quick and sanitary.
What other childcare centers are saying about Janibell®

"I have to say... We love it! It is seriously the best diaper receptacle we have ever used."
~ Kristen Roberts, UMHS Child Care Center, Ann Arbor, MI

"Janibell keeps the dirty diaper smell out of the classrooms, provides convenient storage for diapers, and keeps the look of the classroom up to the standards of Bright Horizons. They are easy to use and replacing the bag is a very simple task."
~ Gretchen McColley, Director, Paramount Child Care Center Bright Horizons Family Solutions, Los Angeles, CA
"Before purchasing the Janibell M400D we were buying diaper pails every 2-3 months. Regular diaper pails were just not working, they didn't hold up and the smell of dirty diapers was present. We are so delighted to have found the perfect solution!"
~ Patricia Buzas, Director, Jan Peterson Child Development Center Moreno Valley, CA
Optional Child-proof Safe-Lock Available.
Call for Details: 1-877-929-4633.
For Liners for the Janibell M400D Commercial Diaper Pail: