Resource ThickenUp Powder is an instant thickener for hot and cold foods and beverages. Thickens quickly without lumping and maintains its consistency over time.
Resource® Thicken Up Instant Food and Drink Thickener Powder ensures dietary management for individuals with swallowing difficulties and other swallowing issues.
For ThickenUp 6.4 gram packets, mix 6 oz. of liquid for Nectar consistency or 4 oz. of liquid for Honey consistency.
Availability for Resource ThickenUp Powder
| | | |
| --- | --- | --- |
| Model Number | Size | Quantity |
| 225400 | 6.4 g | 75 Packets/Case |
| 225100 | 8 oz. | By Each (1 can) or Case (12 Cans) |
Related Articles
Getting Ready for the Holidays with Thickened Foods and Beverages for Those with Swallowing Difficulties
Hormel Thick and Easy Thickened Foods
Swallowing problems should always be diagnosed by a healthcare professional trained in diagnosing dysphagia. CWI Medical recommends consulting a speech language pathologist or other qualified swallowing therapist for evaluation of any swallowing difficulties and recommendation of suitable products.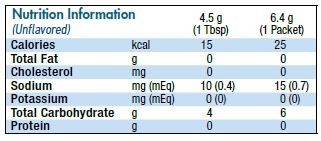 Appropriate for these diets:
lactose-free, gluten-free, low-residue, kosher
Not for IV use.
Suitable for these diets: lactose intolerance*, gluten-free, low-residue, kosher
INGREDIENTS: MODIFIED CORNSTARCH
MAY CONTAIN SOY, MILK, EGG, AND WHEAT (DUE TO EQUIPMENT CROSS-CONTACT)