Assure Platinum Glucose Meter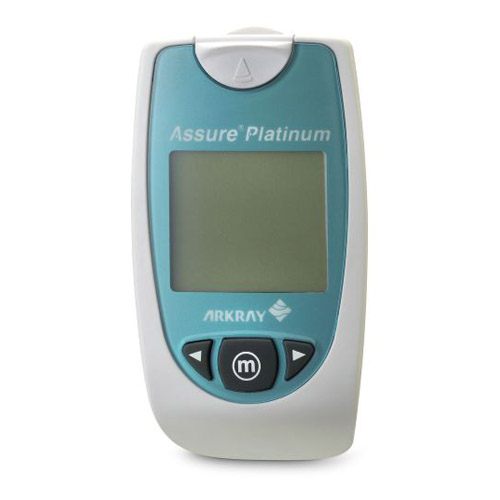 If you have diabetes, you likely need a blood glucose meter, a small computerized device, to measure and display your blood glucose level. Using a blood glucose meter can help you better manage your diabetes by tracking any fluctuations caused by these factors.
When selecting a blood glucose meter, it can help to know the basics of how they work. To use most blood glucose meters, you first insert one end of a test strip into the device. Then, you prick a clean fingertip with a special needle (lancet) so that you can draw a drop of blood. You carefully touch the other end of the test strip to the blood and wait for a blood glucose reading to appear on the screen. Blood glucose meters are usually accurate in how they measure glucose, but they differ in the type and number of features they offer.
A great model is the Assure Platinum Blood Glucose Monitoring System by Arkray. It is designed for precision, accuracy and its easy to use. Great for home or facility use, this glucose meter is the first auto-code meter designed for long term use. Not only does it help keep you in compliance with state regulations in your facility, but it is also designed to ease infection control concerns and provide highly accurate results that can be tested with the Assure Dose Control Solution.

Additional Features Include:
an easy to read LCD backlit screen
utilizes auto-coding technology
has a 2 minute auto shut-off function
a 500 test memory capacity with time/date stamp
7 second test time, plasma referenced results
the qcProGuard control solution reminder
"Hypo" warning alerts
a strip release button
averaging function
strip eject button
< View Assure Platinum Glucose Meter