Tips for Your Warrior Dash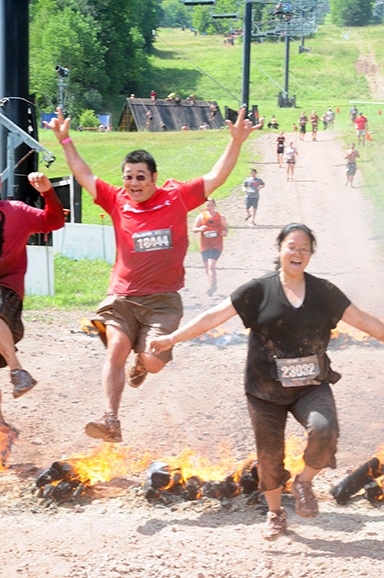 Tips for your Warrior Dash, Spartan Race, Survivor Race, Tough Mudder, or Mud Run
You might have done a 5K, 10K, Half Marathon, Full Marathon, Triathlon, or Ironman. However to be a Warrior, Spartan, or Survivor, you will have to get down and dirty, more like muddy. In addition to the mud, you will have to traverse obstacles.
These obstacles are different. You will find walls to climb, water pits to tread through, cargo nets to navigate, barbed wire to go under, ropes to climb, balance bars to balance on, and many other situations they organizers have not dreamt up yet. Just know that you will be muddy.
Being physically fit for your race is a good thing. However if this is your first physical challenge ever or in a long time, you should consider looking at a fitness programs such as P90, Focus T25 or PiYo. These programs will help with your balance as the course can be uneven and you will need core strength to go over the various obstacles.
If you plan on running, a Couch to 5K program might be helpful if you are new to running. While you might not be running the entire time because of the course. The conditioning that comes from training will make the event better for you and the experience fun. Huffing, puffing and being winded is no fun. You want to be physically fit going into this type of race.
The course will be slippery, so an old pair of running shoes that has enough tread would be helpful. Some will wear trail running shoes which are designed for muddy uneven terrain. Keep in mind at the end of the race, you will typically find a pile of muddy shoes where you can drop off your race shoes and it will be cleaned and donated to someone who can use a pair of shoes.
While there will be official photographers taking pictures during the day. If you decide to carry your cell phone to take some snapshots and upload them to Facebook, or you are waiting for a particular phone call for some reason, place the cell in 2 ziplock bags with the slider closure to ensure that it stays clean and dry. The zipper locks usually fail and open up.
Now that you have jumped over the fire walls, it's time to clean up. Typically the race organizers will use a sprinkler system to spray water in an area so that you can rinse off the majority of the mud. You will find that this is not enough. So keep a couple jugs of water back in your car so that you can rinse more dirt off. What I find handy are adult wipes or washcloths. They really wipe off the grime from your face and body.
Remember to bring an extra set of clothes and towels. Have fun during the day!
Related Articles
< Runners and Ice Packs
< Ironman Triathlon Journey