Airlines Set to Require Medical Grade Masks as COVID-19 Evolves
The evolution of COVID-19 has resulted in ever-changing rules and regulations, especially within the air travel industry. Most recently, several international airlines have begun to require that passengers wear surgical masks either in addition to or instead of cloth masks while onboard aircraft. As of September 2021, the international airlines that require the medical grade mask mandate include Finnair, Lufthansa, Frenchbee, Air France, LATAM, Swiss, and Croatia Airlines.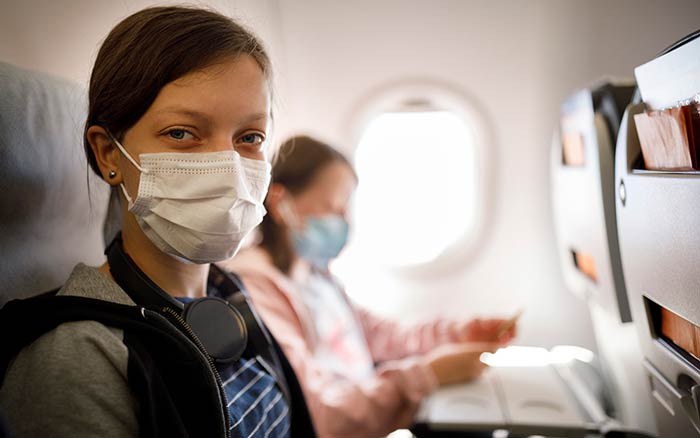 Unacceptable face coverings include cloth masks made of fabric, face shields, masks with a valve (i.e., gaiters, and scarves. The airlines' reasoning that these masks are insufficient is that they permit air to escape and do not provide adequate protection against the virus.
Surgical masks, valveless FFP2 or FFP3, N95 masks, or medical grade masks of equal protection value are deemed acceptable for flight on these airlines. There are no US airlines that have implemented the surgical mask mandate as of now. Additionally, the CDC has yet to ban cloth masks in its mask guidance. Still, the CDC stipulates that cloth masks made of fabric are only acceptable as long as they are double layered, tightly woven, do not have holes, vents, or punctures, fit snugly around the face, and cover both the nose and mouth in their entirety.
While US airlines have not banned cloth masks, several have tightened their restrictions as far as what they will allow onboard the aircraft. Delta, Spirit, Hawaiian, Frontier, United, and American airlines will not permit bandanas to be worn instead of formal face masks. Several US airlines have also deemed masks made of mesh or lace, balaclavas, shirt collars, sweaters, ski masks, and ill-fitting masks to be unacceptable while on the aircraft. Despite these mandates, noncompliance among passengers is still an issue, just as it has been since the start of the COVID-19 pandemic. This has resulted in certain airlines banning customers who refuse to wear masks on their flights. JetBlue Airlines was one of the most recent carriers to ban a husband and wife from using the airline after they refused to properly wear their masks.
Perry Flint, a spokesperson for the International Air Transport Association, said, "Some studies show a modest improvement of efficacy of surgical masks compared to cloth masks." Experts suggest that airlines get specific about which types of face coverings will be permissible aboard flights, and even recommend that they only permit those that meet the highest protection standards. Purvi Parikh, an immunologist at NYU Langone Health, recently mentioned the benefit of medical grade masks, saying that there is "a uniform standard even if you do not double mask like I chose to."
Those are planning on flying international or domestically in the near future can find all of the necessary protection they need right here at CWI Medical. Find COVID-19 PPE, face masks, gloves, hand sanitizers, and more when you visit our site today.
NOW AVAILABLE
Related Items
Related Articles
For more information about the coronavirus, please visit the NYS Department of Health ( www.health.ny.gov ) and the Centers for Disease Control ( www.cdc.gov ) websites.