First Time Mom to be at 40
by Keri Chiappino, DC, DACNB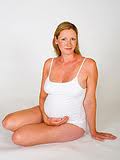 Poised over the test strip with anticipation, you wait. It's positive. You are 42 years old and pregnant with your first child. Elated, you celebrate until fear sets in. Women pregnant in their 40s are considered high risk, but with more women waiting longer to start families, 40 and pregnant is not unusual. By focusing on taking care of themselves, women can create a joyful experience as they prepare to welcome a child into their lives.
To begin with, a good exercise program and diet are essential. Start prenatal vitamins three months before the pregnancy and take them throughout. Make sure they include 450 mg of DHA, which helps to keep the brain sharp and can decrease the chance of postpartum depression.
Changes such as shifts in the center of gravity, extra weight, decreased muscle tone and hormonal changes can cause sciatica, sacroiliac pain, knee pain, swollen ankles, muscle spasms, and headaches. Gentle, non-invasive chiropractic adjustments are safe throughout pregnancy and can establish optimal pelvic balance for an easier, safer delivery. In one study, 91 percent of women reported pain relief as a result of regular chiropractic care during their pregnancy.
Chiropractic care is also effective in alleviating tautness of the round ligament, which can contribute to breech presentations. Once the position of the pelvic bones is corrected, the uterus can suspend from its ligaments optimally, allowing the baby to move into the correct birthing position. Other modalities effective in alleviating pregnancy aches and pain are acupuncture, massage, craniosacral therapy and reflexology. Childbirth classes, La Leche League, and Doulas specializing in labor support all help to enhance prenatal care.
Pregnancy at any age is an extraordinary experience. It is an important time in your life, a time to relish, a time to celebrate and a time for you to be number one. Enjoy it!
Pregnancy Basics
Always consult your OB/GYN or midwife before starting an exercise program.

Yoga is a great fitness choice. Tell your instructor that you are pregnant. No forward bends or twists at the waist.

Walk on a level surface with proper sneakers.

Keep hydrated.

When lifting, don't bend at the waist. Bend your knees and use the power of your legs.

Sleep on your side with a pillow between your knees to keep your pelvis neutral.

Elevate your feet whenever possible.

When sitting don't cross your legs or dangle your feet.

Avoid artificial sweeteners, raw eggs and raw fish, and alcohol.

Remember, moderation is key.
Dr. Keri Chiappino, DC, DACNB, is a holistic healthcare practitioner specializing in alternative approaches for people sufferingfrom neurological disorders. Her successful Maximum Achievement Program (MAP) detects, measures and improves neurological function of children with learning disabilities. Her family practice, New Life Chiropractic, specializes in helping a wide range ofchronic conditions, including autism, ADD/ADHD, Parkinson's, vertigo, migraines and depression, that severely disable people.
Dr. Chiappino maintains an office on the Upper West Side of Manhattan and one in Smithtown, Long Island, that she shares with her husband, Dr. Brent Reynolds, also a Chiropractic Neurologist.
Get value, innovation, and quality when you choose Cuties. Click Here to View All Items by Cuties Products
Shop Cuties Diapers, Wipes & Training Pants
| | | |
| --- | --- | --- |
| Cuties Complete Care Baby Diapers | Cuties Premium Baby Wipes | Cuties Training Pants - Boys |
| Cuties Training Pants - Unisex | Sleep Overs Youth Pants | Cuties Training Pants - Girls |

Related Articles
Related Items