Spring is Here, Take a Stroll with our Trotter Mobility Chair Specialty Stroller for Older Kids with Special Needs
The weather is turning, the sun is shining longer & hotter and the outdoors is filling-up with greenery. Spring is officially here and it's time to head out and enjoy the bounty of nature.
And there is a great lightweight and portable solution for families with kids with mobility impairments who cannot ambulate on their own, and built to safely take older special needs children outside.
At CWI Medical, we are a reputed supplier of specially-designed Trotter Mobility Chair Strollers for older kids with special needs. Our mobility chairs are designed to make your walk outdoors a safe and enjoyable experience.
But before we take a look at our product, let's understand why it's essential that you take your loved one outside every day.
5 benefits special kids get by spending time outdoors
It offers a welcome change in surroundings
Children with more severe mobility issues may have very limited opportunities to go outside. Staying in the same place for hours or days at a stretch can be boring and emotionally taxing. By taking them out to nature, you'll be giving them the change in surroundings they need to feel rejuvenated.
It is soothing and great for stress relief
Having a disability of any kind can be extremely stressful on the caregiving and for your child. It's been scientifically proven how just looking at greenery can make us feel better. Taking a stroll outside on a warm spring day can be a much-needed restorative for your child.
It gives you the opportunity to expose your special needs child to more sensory stimuli
Growing children of any age need sensory stimulation to develop multiple cognitive and emotional skills. Taking your child outside for a walk can help you give them these important sensory stimuli, which they otherwise might be deprived of at home. For example, the feel of a tree bark, smell of newly opened flowers etc.
It allows you to engage your child intellectually
Apart from sensory stimulation, spending time outdoors can be a great way to help older kids keep up with their studies and remain aware about what's going on in the world. As you stroll with them by using a special needs mobility stroller, you can show them different sights and sounds and engage with them cognitively.
Introducing the CWI Medical Trotter Mobility Chair Specialty Stroller for Older Kids with Special Needs
At CWI Medical, we understand how challenging it is for parents and guardians of older children with special needs to find a reliable stroller chair designed for older children. This is why we decided to develop our very own premium-quality, reliable and safe mobility chair stroller, designed exclusively for older children up to 250 lbs.
Our Trotter Mobility Chair Specialty Stroller is an alternative to traditional wheelchairs since . Extremely lightweight and very mobile, you can easily store the stroller in the trunk of your car when heading out, or strapped down with bus-transit ties.
Kids with a wide-range of diagnosis need a simple, easy to transport, cost effective mobility base. The Trotter Mobility Stroller is designed for children with no positioning needs to those with great position needs, and can be positioned in an upright, mid-line posture.
The Trotter Mobility Chair Specialty Stroller has been designed specifically to fit older children and is capable of handling higher loads. Reinforced with numerous safety features, you can set your worries aside and enjoy your walk outdoors or around the neighborhood with your loved one.
At CWI Medical, we take over all mobility-related concerns, so you don't have to. Reach out to us to know more about our Trotter Mobility Chair Specialty Stroller for Older Kids with Special Needs.
Key Features of the Mobility chair stroller
The Trotter Mobility Chair Specialty Stroller is designed for older children with mild to severe disabilities. It can be used for children with epilepsy, autism and severe mobility issues.
It comes with a state-of-the-art Adjustable Tension Positioning™ (ATP™) with versatile back support system. This allows you to adjust your child's seat in an upright or mid-recline position in 85°, 90°, and 95° angles, according to their comfort and needs.
The stroller is foldable and compact when folded. It can be stored anywhere – under the bed, in the attic, in the trunk of the car etc.
It has an 8-inches front casters and 10-inches rear wheels with toggle lock, to give you greater control when in motion.
The stroller comes with lever and anti-tippers that prevents the stroller from tipping sideways or forward. It also enables curbside navigation.
The stroller's seat depth is adjustable, allowing you to reuse the Trotter Mobility Chair Specialty Stroller in your child's growing years. It is also ideal for adults to use.
There are many easy-to-reach levers and pedals that teenagers can use to control their own mobility.
The mobility stroller is crash tested for transit (WC-19 - 130-lbs individual traveling at 30mph).
There is a premium-quality pelvic belt and five-point harness, This keeps your loved one in place when seated in the mobility stroller and prevents them from slumping/falling forwards.
Specifications of theMobility chair stroller
The Trotter Mobility Chair Specialty Stroller comes in four sizes – TR-1200, TR-1400, TR-1600 and TR-1800. Here are their specifications (in order):
4 Seat width Options – 12-inches, 14-inches, 16-inches and 18-inches.
Back height – 24-inches in all four variants.
Load/weight capacity – 75lbs, 100lbs, 170lbs and 250lbs.
Push handle height - 41.5" in all four variants.
Seat-to-floor height - 19"/22" in all four variants.
Seat angle - 20º in all four variants.
Seat-to-back angle - 80º-95º in all four variants.
Back height – 24-inches in all four variants.
Stroller weight – 33lbs, 34lbs, 35lbs and 36lbs.
Make your stroll comfortable with the help of various stroller accessories
One of the biggest advantages of the Trotter Mobility Chair Specialty Stroller for Older Kids with Special Needs is that it is designed for a variety of terrains. You can purchase from an expansive line of accessories that can make mobility more comfortable, enjoyable, safe and stress-free.
Some of the accessories you can purchase through CWI Medical are:
Transit tie downs to clamp down the stroller on buses and trains.
Extendable headrests for growing children, teenagers and adults with special needs.
Under seat carrier to take along your child's favorite toys, books, water bottles and more (Included with each chair)
Seat rail extension kit to support the growth spurts of your loved one.
Medical necessity utility bag to store your essential medical supplies and tools when you head out for a stroll.
Contoured head wings to help support your child's head and neck as they take in the beautiful sights of spring.
Canopy to protect them from the hot sun, gusty winds and rain.
Adjustable footholds that are necessary if you're traveling long distances.
Upper extremity support that is helpful when your older child heads to school or college.
Full torso vest to keep your growing child safe and take them on outdoor adventures every day.
The Trotter Mobility Chair Specialty Stroller is a special needs stroller available through private purchase, or may be eligible through your associated organization through grants. Call CWI Medical to order or for more information at 1-877-929-4633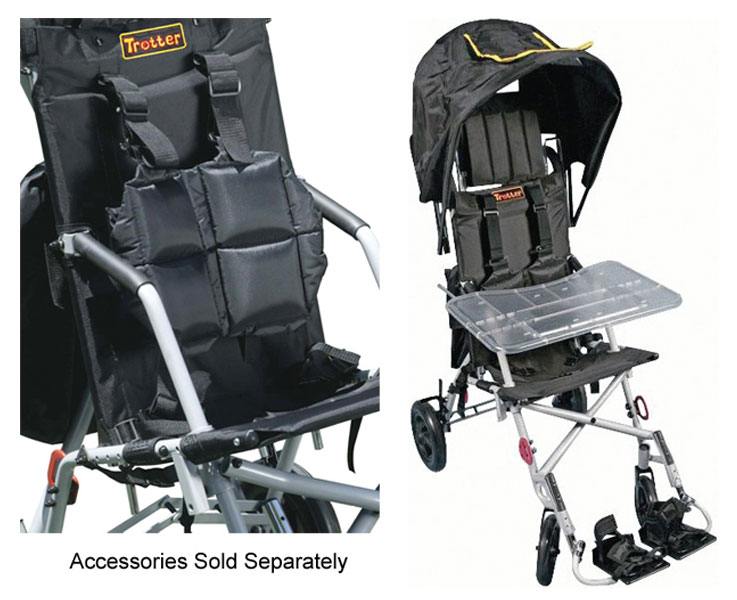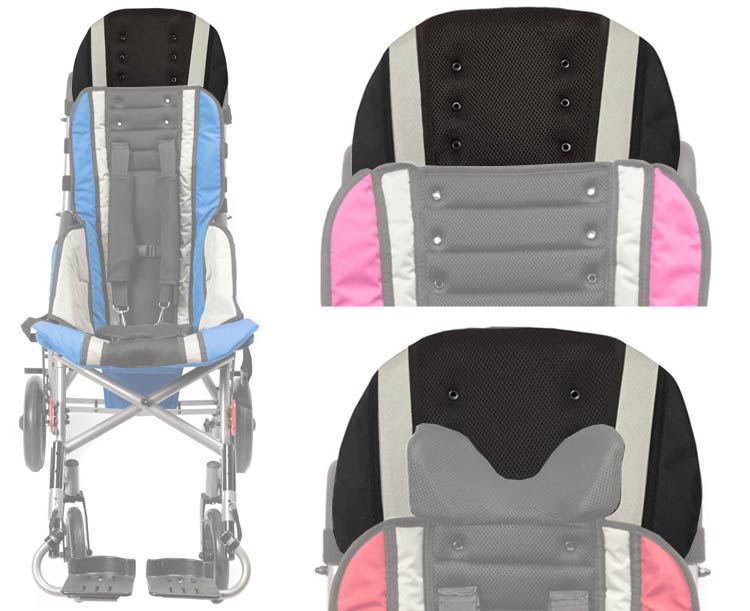 Related Articles