What is MadaCide FD? Who Uses It and How to Use It?
When you visit a hospital, the first thought that comes to mind is 'germs!' Hospital is a place where the sick are treated, and yet, a lot of people believe that visiting a hospital to support a sick friend, family, or acquaintance can infect them with the flu or some virus. Have you ever wondered how the doctors, nurses, and other staff working there don't fall sick?
A lot of effort goes into making sure that the hospital environment is germ-free. People whose sickness or disease is contagious is either kept under quarantine or in a special ward, which is not accessible by everyone. The hospital ensures the safety of everyone who visits by taking the required action, such as keeping the premises clean using a disinfectant cleaner that is designed for infection control, such as MadaCide FD Germicidal Solution.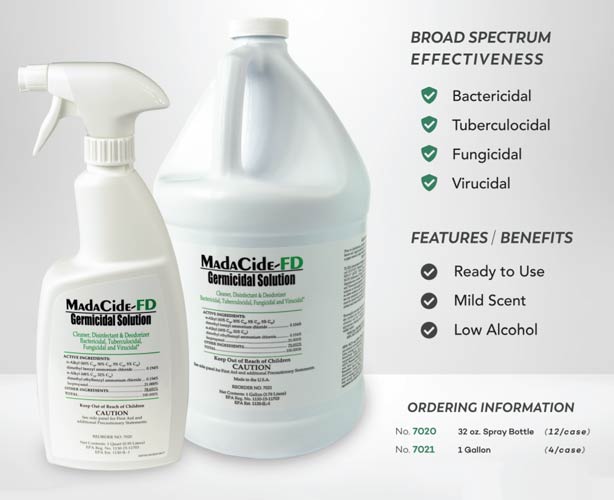 What is MadaCide FD Germicidal Solution?
MadaCide-FD Germicidal Solution is a disinfectant, cleaner, as well as a deodorizer designed explicitly for the infection control needs of the healthcare industry. It is a hospital-level disinfectant formulated to disinfect hard, non- absorbent, inorganic, environmental surfaces. It is a one-step, air dry surface, broad range formula that is used where control of cross-contamination from cleaned and treated surfaces is of prime importance.
It is an ideal product that kills MRSA, VRE, TB, SARS, HIV, Hepatitis B and C, and Influenza A. An Efficacy test resulted in MadaCide FD being an effective germicide, bactericide, virucide, and fungicide. It helps in decreasing cross-contamination from treated surfaces such as respiratory therapy equipment, operating rooms, and medical instruments. It is made of a unique anti-corrosion formulation that prevents damage to plastics, rubber, lenses, cement, steel, brass, aluminum, or other metal when it is used as directed.
Who uses MadaCide FD Germicidal Solution?
MadaCide FD Germicidal Solution is a hospital-level disinfectant that is mostly used in the healthcare industry. It is ideal for use as a one-step cleaner, and it effectively sanitizes, deodorizes, and kills bacteria and germs on hard surfaces. It is used commercially as well as domestically.
It is used in critical care areas in hospitals and clinics as it is formulated to disinfectant inorganic, hard, non- absorbent, environmental surfaces such as chrome, painted surfaces, glass, plastics, and stainless steel usually found in hospitals.
MadaCide FD is also used in dental care for cleaning and disinfecting dental chairs, equipment, instruments, and surfaces, among others.
It is ideal for use in nursing homes and assisted living.
It is used as a germ and virus killer in the tattoo industries. Several tattoo studios all over the world are using MadaCide FD.
As it is an ideal choice for cleaning, disinfecting, sanitizing, and deodorizing, it is used domestically at home as well.
It can be used on plastics such as polycarbonate, polypropylene and polystyrene, polyvinylchloride, glazed porcelain, vinyl, stainless steel, painted surfaces, and glass.
MadaCide FD can also be used on ambulance equipment and surfaces, hospital counters and countertops, CPR training mannequins, respiratory therapy equipment, respirators or face pieces, laboratory equipment, among others.
Widely used as workstation prep items for infection control at tattoo parlors.
How to use MadaCide FDGermicidal Solution?
It is vital to note than MadaCide FD Germicidal Solution must be used as per the directions mentioned in the labeling. It is a violation of Federal law to use it in any other way, other than the directions of use mentioned.
For general cleaning, pre-cleaning, and deodorizing: Prior to disinfection, you must pre-clean all the surface using MadaCide FD Germicidal Solution and must make sure to remove all gross filth and heavy soil. For this purpose, apply the solution to the surface and allow it to sit for thirty seconds before wiping it with a clean towel or sponge.
For Ultrasonic cleaning: Remove all visible gross debris by thoroughly pre-rinsing the instruments under running water. Use just one ounce of MadaCide-FD Germicidal Solution per liter of water in the ultrasonic unit. Dip the instruments into the solution and activate the ultrasonic unit for five minutes or more, as needed. Remove the instruments and rinse, and follow with appropriate cleaning and disinfecting methods.
For hard,non-absorbent surface or articles: To Disinfect HIV-1, Herpes Simplex Virus Type 2, Influenza Strain A2/HK Virus, Pandemic 2009 H1N1 Influenza A Virus, Rotavirus Strain WA, MRSA, Hepatitis B and C virus, Canine Parvovirus, among several others, use MadaCide-FD Germicidal Solution as is. Do not dilute the solution. Thoroughly apply the solution to wet the precleaned surfaces and let it sit for six minutes. Wipe it with a clean towel and let it air dry.
For f Avian Influenza A disinfection, the product must be used only for surfaces that are not favorable to treatment by immersion or excess liquid.
For surface objects soiled with blood or body fluids, for cleaning and decontamination against HBV, HCV and HIV-1: Make sure to wear a latex glove face mask and/or eye covering, protective gown, when handling HBV, HCV and HIV-1 infected blood or body fluids. Clean all surfaces thoroughly before the application of MadaCide-FD Germicidal Solution.
The used solution must be disposed off as per the local regulations for infectious waste disposal.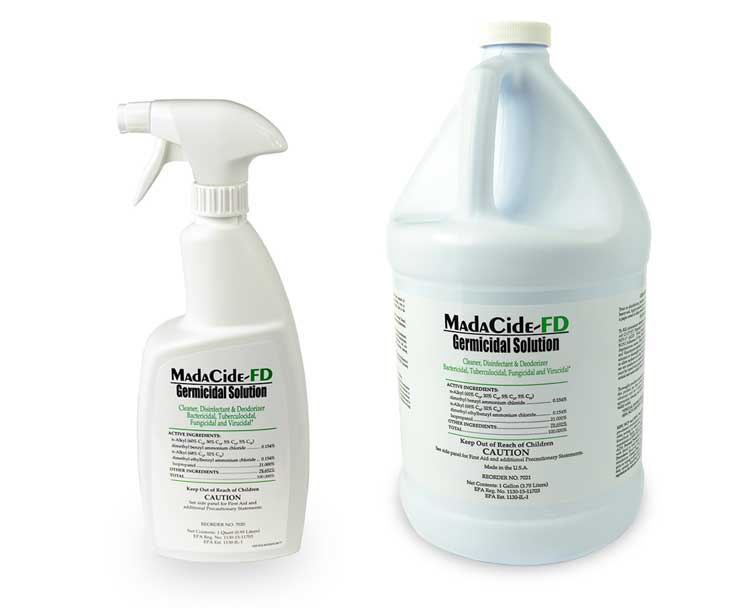 Related Articles