See 20/20 in 2020 with Eye Charts
Eye charts are used by ophthalmologist, nurses, doctors and the DMV Department of Motor Vehicles. It's a simple chart with larger letters, numbers or symbols with larger one on the top and each line underneath getting smaller and smaller. Note that the middle line is usually read at 20 ft, and there fore if you can read that line, you have 20/20 vision. A vision that will not need corrective lenses.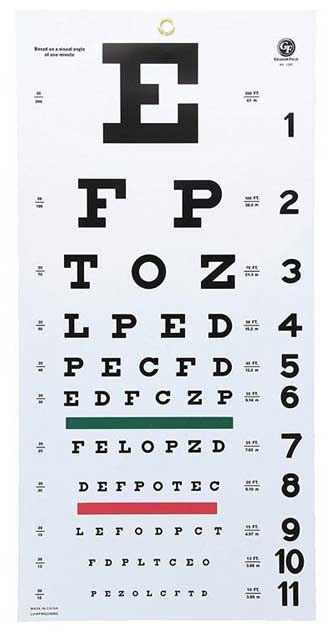 In 1860, Dr. Hermann Snellen was asked by Dr. Donders to create an eye chart so that their patients would look at the wall and tell them what they could see. The Snellen Chart has 11 lines with the largest letter on top. The Rosenbaum chart is a pocket version eye chart that can be used from 14 inches away and determine 20/800 vision. The Rosenbaum eye chart has letters, numbers, circles, and combinations of symbols to test vision acuity.
Other eye charts test for color deficiency such as the Ishihara Color Deficiency Eye Chart Test typically males are color blind and can only see shades of grey. Other vision tests include the Welch Allyn Spot Vision Screener. It is a handheld vision screening device that helps easily detect vision issues on patients from babies to adults and able to test both eyes at once from 3 feet away.
As we age, it's important to have out eyes tested. At the ophthalmologist office, they can also test for glaucoma, cateracts, blindness, and other eye disease, so it's very important to get your eyes check by a professional.
As the famous Barbara Walters says, "This is 20/20!"
Popular Eye Charts:
Related Articles