The Supposed COVID-19 Baby Boom
Does it seem like all your friends are all of a sudden having babies? That may be true, but it's probably not as widespread as you might think. While birth rates are now starting to pick back up, the first year of the COVID-19 pandemic did not result in the high number of COVID babies that some predicted. Many people expected a baby boom to result from COVID-19 lockdowns which began in March 2020 in the US. There was speculation that conception rates would skyrocket as couples had little to occupy themselves with aside from television, but that assumption did not hold up. In fact, the opposite was true.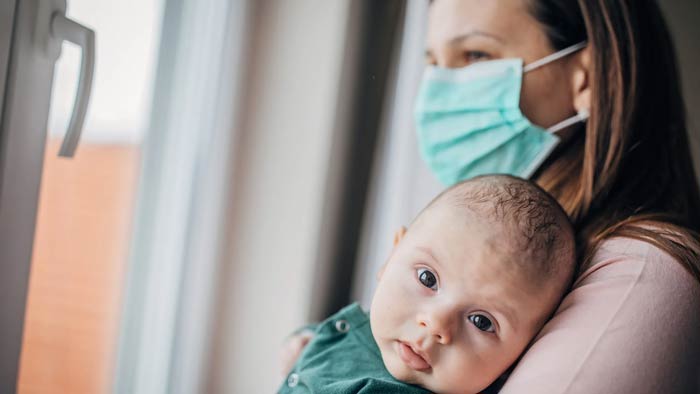 Pregnancy and conception rates initially trended downwards. Experts suggest that multiple factors could have affected the decline, including economic uncertainty, lack of childcare, reduced hospital capacity, the postponed fertility care, and more. Fewer people felt comfortable starting families due to mental and physical health as well as the lack of social support.
Molly Stout, M.D., MSci, and the maternal fetal medicine director at Michigan Medicine Von Voigtlander Women's Hospital, recently authored research titled, "Use of Electronic Medical Records to Estimate Changes in Pregnancy and Birth Rates During the COVID-19 Pandemic." In this, Stout and her colleagues found that pregnancy volumes decreased by about 14% between November 2020 and spring 2021 within the Michigan Medicine hospital system. Although the study was limited to the University of Michigan hospital system, Stout said that she does not "have any reason to think that this is somehow unique." Stout hopes to continue her research to other states and eventually expand it nationwide.
The good news, however, is that this trend is beginning to reverse itself. Healthcare professionals feel that as more COVID-19 protections are put in place and vaccines have become readily available, couples feel more reassured about starting families again. Stout and her fellow researchers from the aforementioned study now anticipate a birth surge. "Major societal changes certainly seem to influence reproductive choices, population growth, and fertility rates," said Stout. Notable times in history where this has been the case include the 1918 H1N1 influenza pandemic, the Great Depression in 1929, and the economic recession of 2008.
From summer to early fall 2021, the number of increased births are expected to rise by 10-15%. While this may seem dramatic, the same model was used to accurately predict the declining births in late winter of 2020. "It's obvious that the surge is here," said Stout of the COVID-19 baby boom. "Our clinics are full to capacity."
With the COVID-19 baby boom now in full effect, the best thing to do to stay ahead of the curve is to make sure you have the right supplies. Whether you are at the beginning stages of family planning and need a pregnancy test or your newborn is a result of the COVID-19 baby boom and you're looking to stock up on formula and diapers, CWI Medical has everything you need. For additional information, please feel free to contact us today.
NOW AVAILABLE
Related Items
Related Articles