What are Evacuation Chairs?
Evacuation chairs and evacuation equipment are necessary for situations where stairs are the only option. In the event of a mandatory and emergency evacuation such as a fire, it is essential to have an evacuation plan. While people in wheelchairs may typically rely on elevators or ramps, those may not be available during emergencies. Stair evacuation chairs are there to help keep you safe no matter what situation you find yourself in.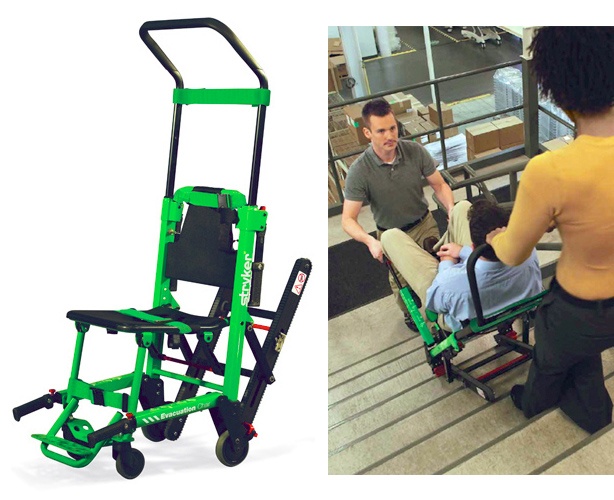 Although buildings are becoming more accessible these days (for example, adding ramps for people in wheelchairs), these may not always be available in the event of an emergency. Fires and floods are two common emergency situations where an evacuation chair for stairs may be necessary for wheelchair-dependent people.
Evacuation chairs offer people with impaired mobility a safe and secure way to exit a building during emergencies. Some people refer to evacuation chairs as disabled evacuation chairs, stairway evacuation chairs, fire evacuation chairs, or simply evac chairs. Evacuation chairs for stairs are made to be lightweight but strong enough to support the bodyweight of the individual in them. These specialty chairs have tracks attached to them so as the user goes down the stairs, the tracks create friction to slow down the descent and allow for better control. Evac chairs also typically have adjustable safety straps to secure the evacuee during transportation.
Wheelchairs are not the same as evacuation chairs, but evacuation chairs can be used as wheelchairs once the individual has reached ground level. This makes the journey toward safety simpler and safer. Most evacuation chairs for stairs can be easily stored by folding them flat and placing them in a vertical position.
Evac chairs are essential for wheelchair-bound individuals, but all organizations and buildings would be wise to have evacuation chairs on hand in case of emergencies. Fires are some of the most common emergency situations. The verbiage, "In case of a fire, use the stairs,' is widely recognized within many elevator buildings. Unfortunately, this does not bode well for people who may be unable to exit a building by using the stairs. An evacuation chair can help remedy these situations and provide everyone within a building with a safe exit strategy.
Other situations where evacuation chairs may be useful would be in the case of a power outage. While this may not be as emergent as a fire or flood, the lack of power will inhibit elevators and escalators, leaving stairs as the only option.
CWI Medical wants you to stay safe no matter where you are. That's why we have premium evacuation rescue chairs to help keep you prepared for accidents, emergencies, service interruptions, and more. Our Stryker Evacuation Rescue Chair is one of the top rated evac chairs on the market. For additional questions or to speak with us directly, please do not hesitate to contact us today!
NOW AVAILABLE
Related Items
| | | |
| --- | --- | --- |
| Stryker Evacuation Chair Accessories | Disposable Protective Face Mask, Box of 50 | Purell Advanced Hand Sanitizer - Emergency |
Related Articles