What You Need To Know About Cosco Green Soap
Tattooing has become a trend in the present times, with people of all walks of life and all ages either bearing a tattoo or wanting to get one. A tattoo is a body art that needs appreciation. While some who believe tattoo to be self-destruction feel that it is not right to change how God has created us, others believe in promoting this art form.
There are different reasons why a person gets a tattoo, and not everyone has the same reason. While some people just like to change how they look, others simply appreciate the design. Then there are some who want to get a tattoo to remember a lost one, or appreciate a loved one, or just because they like it. Everyone has a different reason to get a tattoo, but how a tattoo is done remains the same.
A tattoo is a design made by puncturing the skin with needles and inserting dyes, ink, and pigments deep into the layer of the skin. Initially, tattoos were done manually where the tattoo artist punctures the skin with a needle and inject the ink by hand. Though this procedure is still in use, very few follow it. Now, the tattoo is made using a tattoo machine where the needle is powered by the machine, and ink is deposited into the skin.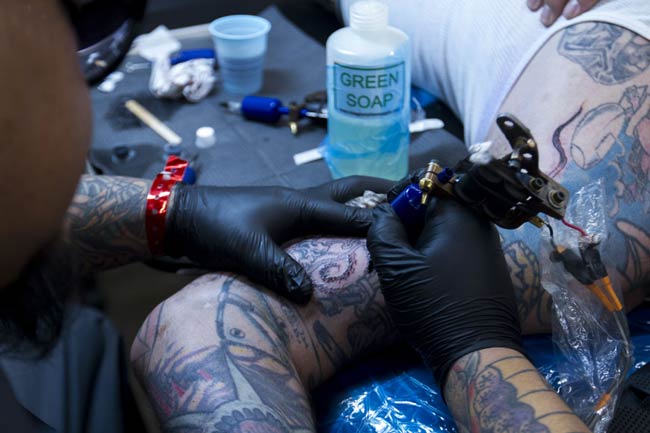 Before the actual procedure begins, the tattoo artist cleans their hands using an antibacterial soap, and wear clean, fresh gloves. Then, the area to be tattooed on the body is cleaned using alcohol or an antiseptic. A tattoo is made using a tattoo machine with single-use sterile needles. Sterile, disposable gauze or cloth is used to clean any blood or fluid. Once the tattoo is finished, the area is cleaned again. Most tattoo shops all over the world make use of Cosco Green Soap.
What is Cosco Green Soap?
Cosco Green Soap is an all-natural soap made from Glycerine and pure vegetable oils. It is an effective detergent as well as a cleaner that is used to remove dried blood and protein soils from the skin as well as the scalp. The soap is mostly used commercially and on a limited basis.
Cosco Green Soaps, or tincture of green soap, have prominent greenish-yellow tints just beneath the surface. The coloring of this soap is attributed to the vegetable-based oils and glycerin used as chief elements or ingredients during the soap manufacturing process. It is a water-soluble product and thoroughly safe to use as it is made from natural ingredients and uses environmental-friendly production techniques.
Who uses Cosco Green Soap?
Cosco Green Soaps, or green soap, is used by surgeons and veterinarians to cleanse and sterilize their hands before stepping into an operating room. Green soap prevents and minimizes the chances of viruses, bacteria, or other microorganisms from attacking and infecting the patients during the operation. It is also effective in cleaning surgical apparatus and surgical instruments before they are sterilized. Nowadays, they are used in piercing and tattooing studios, as well as in beauty parlors. As Cosco Green Soaps are organic and eco-friendly, they do not pose a threat to those who use it. The side effects of Cosco Green Soaps are minimal to nothing.
Cosco Green soap can also be used for domestic purposes, such as to clean or wipe the house, to sanitize areas, to clean bathroom floors, kitchen counter, and sinks. It can also be used for personal cleaning as a body wash or hand wash, or even as a shampoo. As it is natural and mild, it does not harm the skin. It is, in fact, an ideal choice for people suffering from allergies and rashes.
Though green soap is not used widely for domestic purposes, it is heavily used commercially. Cosco Green Soap is mostly used worldwide by tattoo artists for sanitizing tattoo engravers and implements and sterilizing the area to be tattooed. As the soap effectively clears away tattoo ink, dirt, and blood without making the skin surface dry or rough, it is considered the ideal product.
How to use Cosco Green Soap?
Cosco Green Soap is a multipurpose product that can be used for several purposes. But the product is used differently for different purposes.
Tattoo and piercing: For tattoo and piercing, Cosco Green Soap is mixed with little water and used before and after the procedure to clean the tattoo area. It is used for its antibacterial and disinfectant properties to reduce the chances of an infection.
Household Cleaning: A mixture of Cosco Green Soap with water is made in a ratio of five to one. This mixture is either used as a spray or water to clean the house.
Personal Cleaning: Cosco Green Soap can be used directly as body wash, face wash, or as a shampoo. As it is very mild, it does not cause any damage or irritation.
Related Articles