Safety Training and the Importance of First Aid & AEDs in the Workplace
Safety training in businesses, first aid training and having AEDs in the workplace are crucial for keeping employees safe. Fans of the popular television show The Office will likely recall the popular "Safety Training" episode in which Steve Carrell's character, Michael Scott tries to make a case for the dangers of working in an office. The premise involves Michael Scott disrupting a warehouse safety training session. To retaliate, several other Dunder Mifflin staff members mock the office workers' safety training session, saying that office workers are not on physical danger. Michael Scott goes on to demonstrate several dangerous activities throughout the episode to prove his point, all within the confines of the theatrics of the show.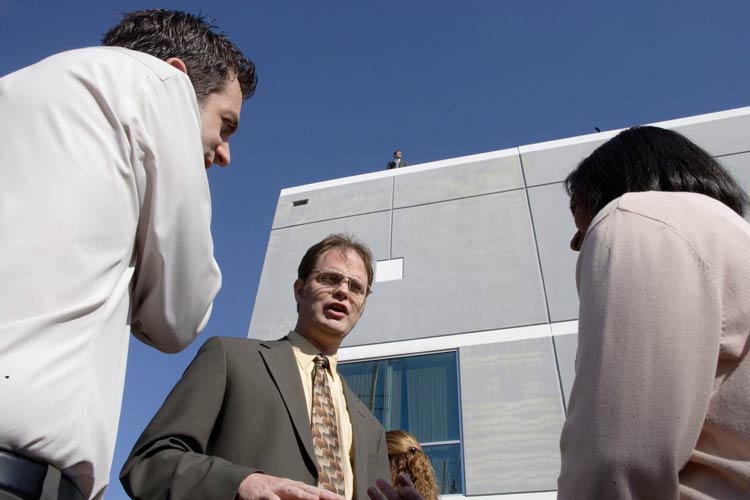 While the dangers of working in an office setting differ from those of working in a warehouse, the truth is that safety training in the workplace is important. Having the right information for what to do in the event of an emergency is crucial, as is having access for a First Aid Kit and AEDs. Office workers can find all of the safety equipment for offices they need right here at CWI Medical.
At a minimum, all workplaces should have a first aid kit on the premises, regardless of the industry. Keeping a first aid kit in the workplace is important for a number of reasons. First aid kits can help clean, treat, and protect in the event of minor scrapes, cuts, and injuries. The contents of a first aid kit may vary depending on its size but it is advisable that offices invest in a more robust version as opposed to a mini first aid kit, which may be suitable for travel or in individuals' desks. For example, the Pro Advantage 25 Person First Aid Kit comes complete with 158 pieces and meets federal OSHA regulations, providing workplaces with a comprehensive solution in case of emergencies.
It is also a good idea for all employers to have AEDs in the workplace. AEDs are short for automated external defibrillators are used to help those experiencing sudden cardiac arrest. Because AEDs can be lifesaving, many wonder, "Are AEDs required in the workplace?" While there is no federal law requiring all companies to have AEDs in the workplace, AEDs are mandatory in several types of businesses. Additionally, there are regulations within all 50 states surrounding the presence of AEDs in the workplace.
The three main types of defibrillators are AEDs, ICDs, and WCDs, the most common of which is the AED. AEDs are portable and can be found in many public buildings as well as in corporate settings. The two types of AEDs are semi-automatic and automatic AEDs. Semi-automatic AEDs detect the rhythm of a heartbeat and indicate when it is time to shock an individual in cardiac arrest. A person must then use the button to administer the shock. An automatic defibrillator administers the shock on its own.
CWI Medical has all the workplace safety equipment and supplies you need to keep you and your employees safe. To find the AEDs and first aid kits that will best suit your needs, feel free to look into our different options. For additional information, please feel free to contact us today.
NOW AVAILABLE
Related Items
Related Articles